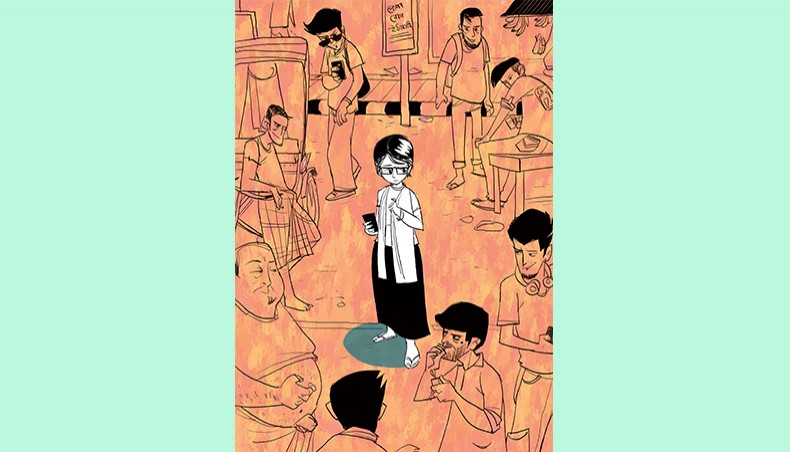 Dhaka — a city that never made me feel home — neither as a little girl nor as a full-grown woman.
It's dangerously unsafe, where I can never freely roam.
Not only for the muggers but also for the strange gazes.
Dhaka is a compact concrete jungle that constantly suffocates me, makes me yearn to go find a space to breathe.
The energy here is so toxic, going inside is your only refuge.
It's a place where my senses are overloaded — not only with the noise, the traffic, the pollution, the beggars, the hawkers — proudly occupying the sidewalks, the uncomfortable lighting, the overcrowded spaces, the unplanned urbanisation, the piles of overflowing dirt, the stray dogs, the honking of the vehicles;
but also, with the indiscipline, the crime, the corruption, cruelty, violence, intensity and the ruthless people.
Dhaka makes me feel fernweh — the self in me that wants to feel appreciated, rather feels criticised.
Dhaka will never let you hide to find yourself or to find solace.
It's a space that I have outgrown, certainly not where I belong.
Too much is happening, but I am still not growing.
The feeling of disassociation is always there.
It's not the home where you find your tribe.
In Dhaka, I am alone. I go alone. I do it alone.
I want to go for a long walk home.
Faria Rashid is a development activist focusing on women's rights, gender equity, refugee rights and communications. She is a free-spirited, fierce and flamboyant soul. Faria is a solo traveller wandering and wondering in this amusing planet.
Want stories like this in your inbox?
Sign up to exclusive daily email