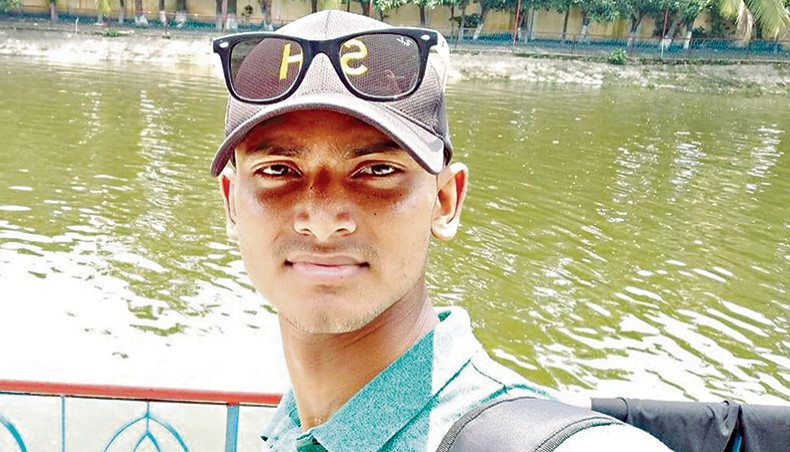 The tragic death of emerging cricketer Sajibul Islam should serve as a wake-up call for Bangladesh Cricket Board as there are many others like him who are getting increasingly frustrated with the partial resumption of cricket since lockdown, said former cricketers.
Police recovered the lifeless body of Sajib, a former Bangladesh Under-19 player, from his residence in Rajshahi on Sunday.
According to Sajib's father Morshed Ali, he was heartbroken after being left out of the players' list for the upcoming Bangabandhu Twenty20 Cup and that frustration led him to take such an extreme step.
'For the last few days, Sajib was depressed. He used to tell me that he will get a call in the upcoming T20 tournament. He was hopeful because he did well previously with Uttara Sporting Club. But after he missed the cut, he became very frustrated,' Morshed told New Age.
Former Bangladesh skipper Khaled Mashud, who is also involved with the Clemon Cricket Academy in Rajshahi, could not recall Sajib well but expressed deep concern about other cricketers who are under tremendous mental pressure due to the elongated break from cricket.
'Earlier BCB organised the President's Cup with 45 cricketers, now they are organising a T20 Cup with 80 cricketers. What about the rest of the cricketers who are also part of this system?' Mashud told New Age.
'Only 80 cricketers were picked for the T20 tournament. Cricket is an industry where three to four thousand players are involved. They play in the premier league, first division, second division, district leagues and all the local tournaments. This is how a player climbs up the ladder to the national team,' he added.
The Bangabandhu Twenty20 Cup is BCB's second competitive tournament in the post-pandemic era after the three-team fifty-over competition BCB President's Cup.
Although the first-class players of the country have repeatedly asked the board to quickly resume the domestic competitions, the board has preferred to keep staging new tournaments where only a limited number of cricketers get to play.
Getting picked by a side in the Bangabandhu T20 Cup fetched a player a minimum of Tk four lakhs and the frustration of missing out from it and the fact that no other cricket competition is currently being run in the country only adds to the frustrations of the players who are currently financially struggling.
Mashud, who was the coach of Prime Bank Cricket Club in the Dhaka Premier League, said that cricketers who play at the lower divisions and local leagues are on the verge of quitting the game.
'Think about the cricketers who play in the 2nd division or 3rd division or local leagues. They earn a very small amount of money by playing cricket, from which they contribute to their families and also bear own expenses. But since March, everything is closed. No local leagues or tournaments. How will the players survive?'
Sajib played for Shinepukur Cricket Club in 2018, which is owned by Beximco who also own the Bangabandhu Twenty20 Cup side Beximco Dhaka.
BCB game development committee chairman Khaled Mahmud, who is involved with Beximco Dhaka, knew Sajib from his Shinepukur days and is also the head coach of the Bangla Trac Cricket Academy in Rajshahi, where Sajib used to train.
Mahmud had expressed his disbelief after learning about Sajib's passing on Sunday.
'I know him well. He was an opener and occasional medium pacer. He played in the first division for my team Shinepukur. He could have told me about his frustration! I still can't believe it.'
Bangladesh cricketer Nazmul Hossain was still puzzled at why someone like Sajib would commit suicide for not getting a team in Bangabandhu T20 Cup, a sentiment echoed by Rakbul Alam Sentu, fielding coach of Bangla Trac Cricket Academy.
Former BCB president Saber Hossain Chowdhury also felt that the whole situation smelled fishy.
'Why was he so frustrated? Did someone promise him that he will be picked in the team? I also wonder why someone would take such an extreme measure,' Saber told New Age.
Want stories like this in your inbox?
Sign up to exclusive daily email
More Stories from Cricket