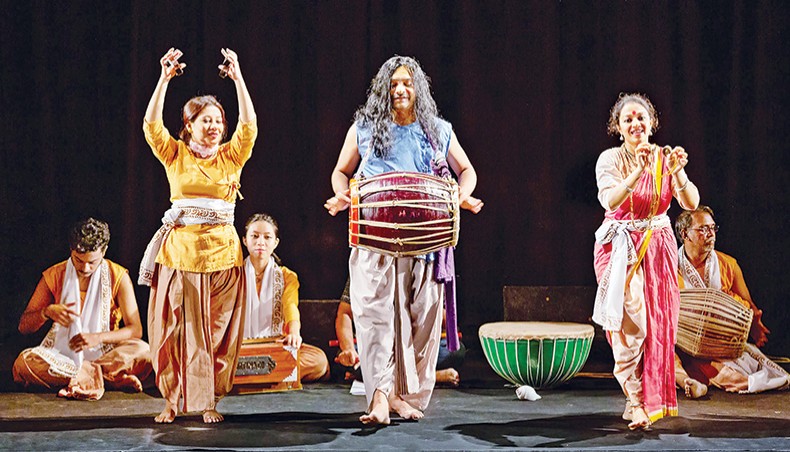 Theatre troupe Sangskar Natyadal staged the play Geeti Chandrabati at the Experimental Theatre Hall of Bangladesh Shilpakala Academy on Saturday.
The play, written by Nayan Chand Ghosh and directed by Yousuf Hasan Arko, is the seventh production of the troupe.
Geeti Chandrabati revolves around a love story between the medieval Bengali poet Chandrabati and Joyananda.
Chandrabati vows to marry Joyananda in her childhood days. Their families also fix a wedding date.
However, Joyananda marries a Muslim girl. The news comes as a great shock to Chandrabati.
She begins to compose the Ramayana in Bengali. She narrates the Ramayana from Sita's point of view and criticises Rama.
After three years, Joyananda realises his mistake. He confesses his love to Chandrabati but gets rejected and the story moves forward.
Manami Islam Kanak, Bappy Saif, Selim Reza Swapan, Fatema Tuz Zohra Eva, Ashikur Rahman, Naba Chowdhury, Masud Kabir and others acted in the play.
'The play was staged at Enam Medical College and Hospital in Savar on January 27 before the first COVID-19 case was discovered in Bangladesh. We were scheduled to stage the play in India in March but we could not follow through due to the COVID-19 crisis. Today we staged the eighth show of the play, which is the seventh production of our theatre troupe. I hope the audience have enjoyed it,' ND Chanchal, chief of Sangskar Natyadal, told New Age.
Want stories like this in your inbox?
Sign up to exclusive daily email
More Stories from Theatre