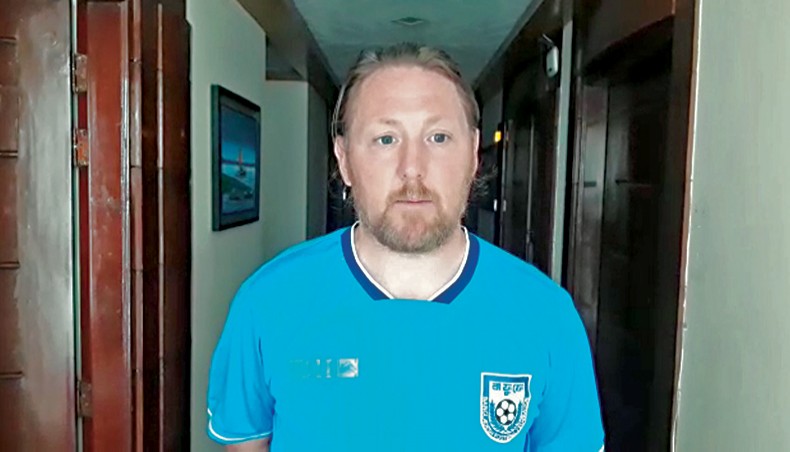 Bangladesh national football team head coach Jamie Day and Bangladesh Cricket Board director Mahbubul Anam tested positive for COVID-19 on Sunday.
Day was exhibiting some mild symptoms while Mahbub was admitted to the Evercare Hospital in Dhaka on Saturday night after his situation worsened.
Day was found to be carrying the virus after the result of the routine tests of all players and support staff of Bangladesh and Nepal team came out on Sunday.
Out of the 75 people who got tested, only Day was found positive.
Day was isolating at his hotel room and gave his sample for a retest on the same day.
'I think just got a cold and it has affected the result so just got tested again today [Sunday]. I got the report this morning but doing another later today,' Day told New Age.
After the news of Day's infection came out, BFF cancelled Bangladesh team's scheduled training session in the morning, informed national team manager Amer Kham.
Bangladesh are supposed to play the second and final friendly of the Mujib Borsho FIFA International Football Series on November 17.
Amer further said that BFF was undecided who will take charge in that match if Day tests positive in the second test as well, the result of which is likely to come out late on Sunday.
Day's infection also put doubts over whether he will be able to travel with his charges to Doha on November 19 for the second leg match of the 2022 FIFA World Cup and 2023 AFC Asian Cup joint Qualifiers against Qatar on December 4.
BFF general secretary Abu Nayeem Shohag said the federation will wait for the result before searching for an alternative for Day for the Qatar trip.
'We are hopeful to go to Qatar. If he [Jamie] tests positive again, in that case, the national team committee of BFF will decide by next two days who will take the charge of Bangladesh team for Qatar,' Shohag said.
Earlier on November 11, Nepal defender Ranjit Dhimal had tested positive for coronavirus but on Sunday he was tested negative.
On the other hand, BCB grounds committee chairman Mahbub was also infected by the virus, a BCB official confirmed New Age.
'He [Mahbub] was found COVID-19 positive. Initially he was at home and now I heard that he was taken to the hospital,' BCB media committee chairman Jalal Yunus told New Age.
Mahbub, who was the auctioneer of the Bangabandhu Twenty20 Cup players' draft on Thursday at a city hotel, was the latest cricket-related personnel to get infected by the virus this month.
Before him, Bangladesh Twenty20 skipper Mahmudullah and Test captain Mominul Haque and selector Habibul Bashar had been infected by the virus in November.
Want stories like this in your inbox?
Sign up to exclusive daily email
More Stories from Miscellany