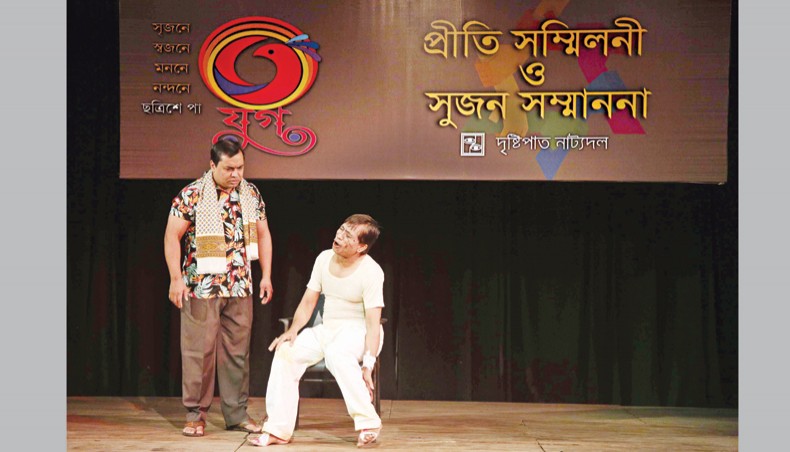 Theatre troupe Dristipat Natyadal celebrated its 36th founding anniversary organising a vibrant cultural programme at the Studio Theatre Hall of Bangladesh Shilpakala Academy on Friday.
The programme titled 'Srijane Swajane Manane Nandane' featured discussion, plays, recitation, songs, dance recitals, felicitation programme and more.
Bangladesh Shilpakala Academy director general Liaquat Ali Lucky was present as chief guest while Bangladesh Group Theatre Federation secretary general Kamal Bayezid, Bangladesh Pathnatak Parishad general secretary Ahmed Gias and theatre activist Tapan Hafiz were present as special guests at the programme.
Dristipat Natyadal felicitated its members namely Abdul Halim Aziz, Jahangir Kabir Bakul, Sunil Kumar Dey, Khandaker Tazmi Noor and Rafiqul Islam at the event for their contribution to the troupe.
The founder and leader of Dristipat Natyadal Abdul Halim Aziz presided over the programme and delivered welcome speech.
'I founded the troupe in 1984 along with a few of my friends at Nakhalpara in the capital with an aim to promote theatre among the younger generations. Though the troupe has had many ups and downs, it has been contributing steadily to the country's theatre arena by producing plays. I thank all who have supported us during this journey,' said Abdul Halim Aziz.
'Cultural activities can play an important role in building a peaceful society. Theatre can expose anomalies and inspire social changes. There are many theatre troupes in our country but only a small handful of troupes have successfully crossed three-decade mark. I congratulate Dristipat Natyadal for stepping into 36,' said Liakat Ali Lucky.
'I would like to congratulate Dristipat Natyadal on its 36th founding anniversary. BGTF is always ready to stand beside the troupe. I wish Dristipat Natyadal all the best,' said Kamal Bayezid.
Tapan Hafiz said, 'Dristipat Natyadal is like a family to me. I have always enjoyed a warm relationship with the troupe. I wish the troupe success in its future endeavours.'
After the discussion, representatives of Rangan Pith Natyadal, Swaralipi Theatre, Kheyali Natyagoshthi and others greeted Dristipat Natyadal with flower bouquets.
Besides, artistes of the troupe presented songs, dance recitals, recitation and staged selected parts from different plays namely Raja Himadri, Buddha, Hanadar, Bura Bhuter Goppo and Maharajar Desh to the delight of the audience.
Want stories like this in your inbox?
Sign up to exclusive daily email
More Stories from Theatre