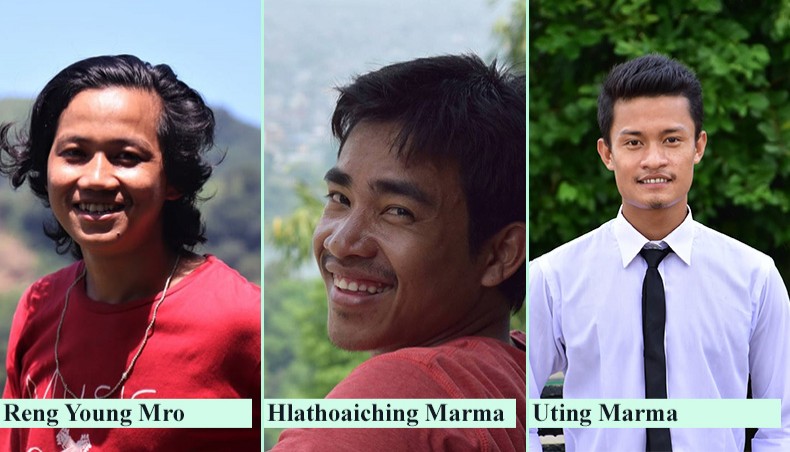 Recently the construction of a five-star amusement park at the Chimbuk Hills, Bandarban has caught the media attention as thousands of Mro people protested at the decision and demonstrated in their traditional attire. Three young indigenous students shared their thoughts on the cultural showdown with the New Age Youth
Reng Young Mro
Jahangirnagar University
TILL date, all the tourist spots in the Chittagong Hill Tracts have been constructed by destroying the locals' lives and livelihood, social structure and the forests. Be it Sajek, Nilgiri or Nilachal, every place is at the cost of people's tears and sighs. If the philosophy of tourism is overexploiting a place whenever a beautiful spot gets exposure, then it is a serious concern.
These tendencies not only harm the locals but also nature and the forests. People's homestead is not only a place to live in but also a nurturing ground for cultural and ethical values. So, before indulging in tourism, local dynamics and these issues need to be considered.
That is why before constructing any tourist spots, locals need to be involved in the process. Also, the landowners should get some priority in decision making.
I also think that if tourism hinders nature, tourism should be stopped.
On November 8, 2020, inhabitants of the Chimbuk Hill protested at the illegal grabbing of their lands to construct 'Hotel Marriot and Amusement Park'. They demanded to stop the construction which is on the lands snatched from them.
Why indigenous people have to be scared to lose their lands because of a five-star hotel and tourism? Why they have to fight to protect their homestead?
Their land is their rights and those rights are violated due to tourism — the construction must stop at once.
Hlathoaiching Marma
BRAC University
FOR several reasons, Chittagong Hills Tracts are becoming a popular tourist destination. These can present opportunities for the indigenous people, however, due to lack of administrative willingness and unplanned tourist structures are not allowing the locals to get the benefits.
Instead of their wellbeing, locals' homestead and farming lands are being grabbed. So, it is no surprise that indigenous people consider tourist activities with deep suspicion.
I do not know how a certain area can undertake development projects without considering the interests of that area's original inhabitants. In this matter, local administrations and the state have been silent which is surprising. So, to run the tourism industry, this culture of excluding the locals from the benefits should be stopped at once.
The state has to take the major responsibility instead of the locals and the victim families to ensure a sound tourism industry.
Uting Marma
General Secretary, Bangladesh Marma Students' Council
WE ARE the children of the hills. Nature is intricately woven with our indigenous lifestyle. Indigenous lifestyle is completely dependent on nature and the land. The diversity of nature is carefully protected by the simple life of the indigenous people. The knowledge to protect nature and collect our livelihood from the surrounding forests is passed down through generations.
Also, these lands have been inhabited by our previous generations; these lands have been our jumm lands, place to worship the nature and our cemeteries.
However, knowledge and nature are at threat because of tourist structures. Historic land laws are being ignored in Bandarban and lands are grabbed to construct resorts. The name of the lands, often hundreds of years old, are instantly changed due to tourism. Tourist attractions in the Chittagong Hill Tracts are proof to the claim.
In the name of tourism, forests are destroyed, local livelihoods are ruined and people are expelled from their homes. We do not what the kind of tourism that destroys indigenous lives and lifestyle.
Want stories like this in your inbox?
Sign up to exclusive daily email