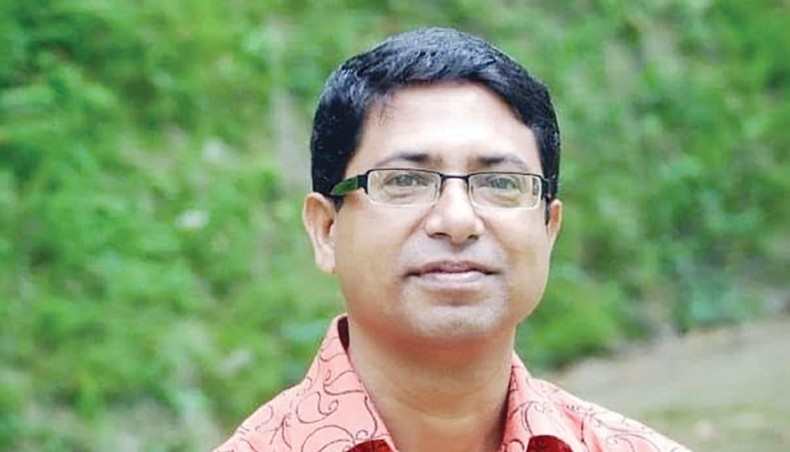 Zillur Rahman emerged as a poet in the mid-eighties. His poems were published in various little magazines and dailies. Zillur Rahman is the editor of a literary magazine named Jadio Uttarmegh and was also a member of the editorial board of the literary magazine Lyric. He has put out three collection of poems, two long poems, two collections of essays and three translation works.
He is also a professor of pathology at Bangabandhu Sheikh Mujib Medical University.
Recently he spoke with New Age about his poems, the little magazine movement in Bangladesh and more.
New Age: The COVID-19 crisis has turned life upside down. How did you spend your days after the first COVID-19 case was discovered in Bangladesh?
Zillur Rahman: Though people across the world stayed at home, I couldn't do the same due to my profession and I was in a state of panic. I constantly thought of seeing my daughter who lives on the other side of the world. The glimpses of the pandemic were nothing short of a nightmare. I endlessly pondered about Albert Camus. I penned a long poem, a good number of poems, prose and four short stories amid the COVID-19 crisis.
New Age: How did you get into writing? Tell us about your journey. Were you influenced by anyone?
Zillur Rahman: I started writing when I was a school student. Back then I used to write for a monthly magazine, which was edited by me and a friend. My poem was first published in the literary page of the then daily Purbabarta in 1983.
As I started my literary journey, it dawned on me that I have to enrich myself by reading works of leading poets. But at that time books were scarce in Chattogram city. Besides, I didn't have money to buy books. So I used to read books standing in front of various bookstores in Anderkilla.
I have been inspired by Shamsur Rahman, Ahsan Habib, Abul Hasan, Shahid Qadri and Al Mahmud. Later I started reading Rabindranath and Jibanananda.
New Age: Having been involved with little magazines since the late eighties would you please shed some light on the weaknesses and strengths of the little magazines that are currently active?
Zillur Rahman: Little magazine is a kind of movement of literature-art-architecture-politics-philosophy etc. Basically, it has been a means of creating in negation of the existing power structure and dominant trends. A little magazine's job has been, and still is, the creation of a space for new literary ideas, new philosophies, and new politics. There are many literary magazines in our country, but there are very few little magazines that can give birth to a literary movement. Perhaps the comfort zones created within the existing system are pushing our literature away from the revolutionary path. However, many important and good writings are also being published in the literary magazines of our time. But there has been a loss of momentum, which, one may assume, was also the result of the untimely death of revolutionary politics.
New Age: What were the contexts of your poems Atmajar Proti, Shatakhanda and Diogenes-er Hariken?
Zillur Rahman: After a university student was raped by her friends at a birthday party at a hotel namely Raintree in Banani, I heard many of my colleagues saying, 'Why the girl went to the party so late at night?' Their words irked me and I thought about my daughter who would go to the university soon. If she had been invited by her friends, why would she hesitate to go. If a boy can go, then why can't a girl do the same?
When I was thinking about these things, I recalled that years ago during a religious sermon, women were compared to tamarind by a speaker and this immoral mind-set seemed to have spread. I couldn't sleep at night and it was nearing dawn when I started writing the long poem Atmajar Proti. I dedicated it all to the daughters who have been wronged. I penned Shatakhanda as I was impacted by the inconsistencies of life, self-centeredness of people. The poems in the book Diogenes-er Hariken have been composed mainly between 2013 and 2017.
New Age: The country would most likely be hit by a second wave of COVID-19 infections in the winter. How pragmatic will it be to organise a book fair in such a situation?
Zillur Rahman: The second wave is currently battering France and England. As a physician, I am very concerned about COVID-19. The virus can infect a person multiple times.
Book publishing industry not only plays an important role in promoting creative works of writers and poets, it is also a source of livelihood for people involved in the industry. There is no doubt that the crowds visiting the fair will increase the infection rate. If the fair is arranged virtually, then we can prevent the spread of the disease.
Want stories like this in your inbox?
Sign up to exclusive daily email
More Stories from Literature