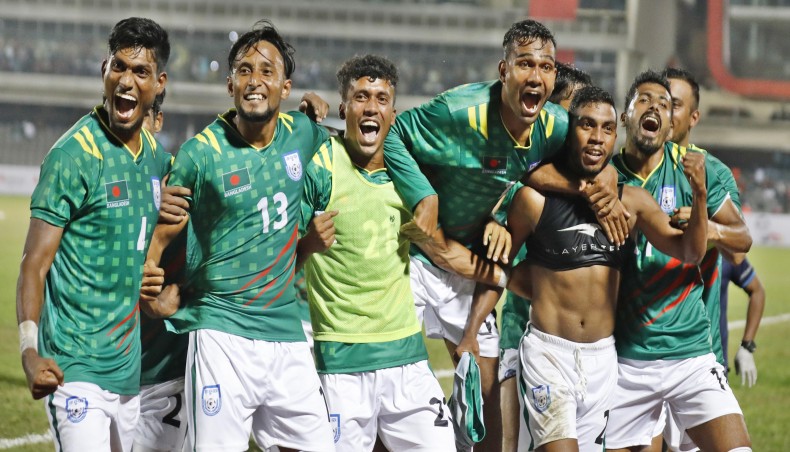 Bangladesh beat Nepal 2-0 in their first friendly match of the two-match Mujib Borsho FIFA International Football Series held at the Bangabandhu National Stadium on Friday.
Forward Nabib Newaz Jibon and substitute forward Mahbbur Rahman scored one goal each in either half of the match to ensure the win in their return to international stage after a nearly one-year break due to the COVID-19 pandemic.
Bangladesh took the lead in the 10th minute when Jibon pushed the ball home from inside the box after a cross from forward Saad Uddin.
Mahbbur, who took the field in the 61st minute in place of debutant forward Suman Reza, doubled the margin in the 80th minute.
In a solo effort, Mahbubur placed the ball into the net from close range with a right-footed drive, dribbling past two players – Ajit Bhandari and Ananta Tamang – and deceiving goalkeeper and captain Kiran Chemjong.
Bangladesh started the game cautiously and created a chance inside 10 minutes but defender Manik Mollah failed to score from goalmouth off a throw in from defender Bishwanath Ghosh.
Though Nepal had more ball possession, they couldn't put the Bangladeshi defence line under any real pressure as Bangladesh's debutant keeper Anisur Rahman was hardly tested.
Anisur made two saves in the 26th and 35th minute, first from forward Nawayug Shrestha's strike from top of the d-box and then midfielder Anjan Bista's shot from inside the box.
Nepal started to play aggressively from the beginning of the second half and came close to scoring in the 53rd minute but midfielder Ravishankar Paswan's shot from a corner was fended off by a Bangladeshi defender.
Bangladesh coach Jamie Day then brought five changes in a span of 15 minutes which changed the momentum of the match and the hosts doubled their margin with just 10 minutes of regular time remaining.
Almost 12,000 Bangladeshi fans cheered on their players every time they exposed Nepal's defence.
Pleased with the performance, Bangladesh Football Federation president Kazi Salahuddin announced a bonus of Tk 10 lakh for all the Bangladesh players.
Day expressed satisfaction over his charges performance.
'It's nice to get a win. We played very well and it's good for us as there are no injuries…We played well in the first half and Nepal was better in the second half than us,' the Englishman said after the match.
Nepal team coach Bal Gopal Maharajan also seemed pleased with his players' showing despite the loss.
'It was a good game for both teams. But I am quite satisfied with my boys' performance...Win or loss does not matter. We lacked of fitness and confidence. I appreciate and accept the performance the boys gave,' said Maharajan.
The next game will be held at the same venue on November 17.
Want stories like this in your inbox?
Sign up to exclusive daily email
More Stories from Football