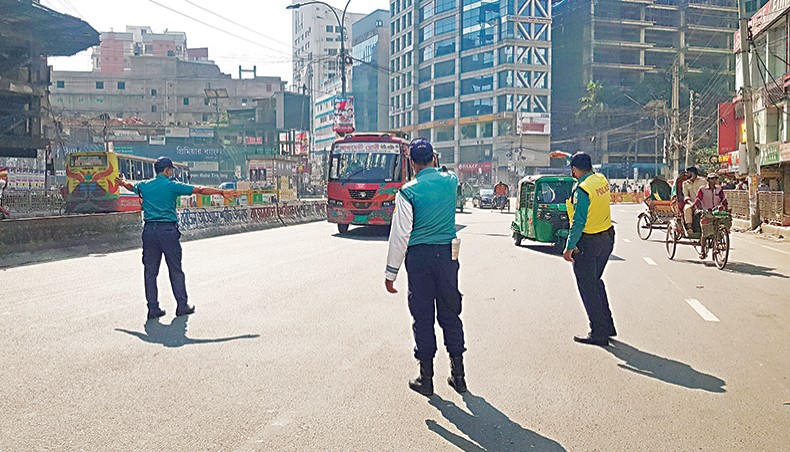 Police filed 13 cases naming around 500 leaders and activists of the main opposition Bangladesh Nationalist Party and its associate organisations and several unidentified people in connection with Thursday's arson attacks on buses in the capital.
The cases were filed with 10 police stations in the capital on Thursday night and on Friday on charges of arson attacks, vandalism, and exploding cocktails.
In the case statements, police alleged that the buses were set on fire in a bid to foil Thursday's Dhaka-18 by-election, to leave an adverse effect on the law and order situation to destabilise the country and to destroy people's lives and properties, police said.
Until Friday evening, 33 BNP leaders and activists were placed on remand in police custody on charges of arson attacks and vandalism in 11 cases, said Dhaka Metropolitan Magistrate Court assistant public prosecutor Hemayat Uddin Hiron.
He said that two separate Dhaka Metropolitan magistrates Debdas Chandra Odhikari and Dhiman Chandra Mandal passed the orders after police produced the accused before their courts Friday afternoon in connection.
Ruling Awami League leaders blamed BNP for carrying out the arson attacks while BNP blamed government agencies for the attacks on 11 buses at separate places of the capital.
BNP secretary general Mirza Fakhrul Islam Alamgir, in a press conference at the party chairperson's Gulshan office in Dhaka, condemned the arson attacks and alleged that government agencies might have committed the misdeeds to blame BNP leaders and activists.
Terming the cases false, he demanded immediate withdrawal of the cases and release of the party leaders and activists.
'There are elements in this government who carry out such acts of sabotage. We have seen this in the past and BNP was accused then too,' he said at a separate programme on Friday.
AL general secretary Obaidul Quader, addressing a press conference at the party president Sheikh Hasina's political office in the capital's Dhanmondi, alleged that BNP had set fire to the buses as per their pre-planned blueprint.
He alleged that such unleashing of anarchy and acts of sabotage proved that BNP could not veer away from its traditional path of terrorism.
Most of the accused in the cases filed by the police are thana and ward-level leaders of the BNP while some central leaders and leaders of BNP's front organisations were also made accused in the cases.
BNP mayoral candidate for the last Dhaka South City Corporation polls and late Dhaka mayor Sadeque Hossain Khoka's son Isharaq Hossain was named as prime accused in a case filed with Motijheel police station.
BNP chairperson's foreign affairs sub-committee member Ishraq Hossain said that he was in home isolation for the last few days since he was feeling ill.
'There are doubts over the authenticity of these cases as I was named the prime accused though I was confined to my home,' said Ishraq.
In a case lodged with Vatara police station, police alleged that a bus was set on fire at Vatara after exploding a number of cocktails on orders from Dhaka-18 by-polls BNP candidate SM Jahangir to foil the by-polls and to destabilise the situation.
Deputy commissioner of media and public relations division of Dhaka Metropolitan Police Walid Hossain said that two cases were filed with Shahbag, Paltan and Motijheel police stations each and one case was filed with Bangshal, Vatara and Kalabagan, Sutrapur and Turag police stations each.
Police arrested six people in cases filed with the Shahbag police station, nine people in cases filed with Paltan police station, one people in a case filed with Motijheel police station, two people in the case filed with Bangshal police station and two people in the case filed with Kalabagan police station.
None was arrested so far in the case filed with Vatara police station.
Besides, nine each were arrested by Sutrapur and Uttara Pubra police station and one by Khikhet police, said court officials, according to New Age court correspondent.
Nine arrestees of Uttara Pubra police station were sent to jail as police did not made any remand pleas.
While the other arrestees were placed in remand for different terms ranging from two to seven days, said APP Hemayat.
He said that the accused BNP activists were making chaos in the court during the remand hearing where metropolitan magistrate Debdas Chandra Odhikari warned them of imposing a fine.
Police said that the attacks were carried out to hinder Thursday's Dhaka-18 by-elections, which BNP rejected on allegations of ousting its agents from the polling centres and widespread rigging.
Several bus staff and witnesses said that they only saw the fire but could not identify who and why the buses were torched.
At least 11 buses were set on fire at separate places in a series of arson attacks in the capital in about five hours starting from Thursday noon.
None was injured in the fire attacks, according to police and fire service officials.
Want stories like this in your inbox?
Sign up to exclusive daily email
More Stories from Politics