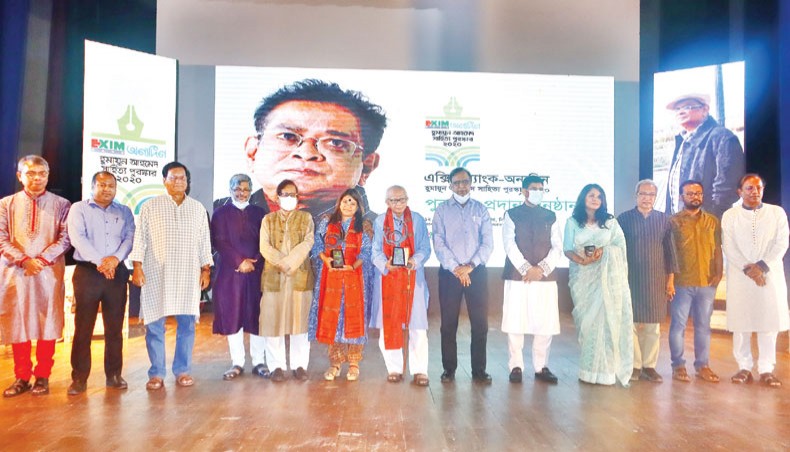 Today is the 72nd anniversary of birth of the late acclaimed novelist-dramatist-filmmaker Humayun Ahmed.
Humayun Ahmed was born in 1948. After obtaining his Master's degree, he joined Bangladesh Agricultural University as a lecturer in 1972. Though he officially trained as a chemist, Ahmed found his true calling as a writer.
He wrote about 200 works of fiction, eight of which were made into films. He also penned and directed many popular teleplays, drama series and films. He died from colorectal cancer at the age of 63 at a hospital in New York on July 19, 2012.
Humayun Ahmed was recalled at a programme held at Abdul Karim Sahitya Bisharad Auditorium of Bangla Academy on Thursday.
Writers Hasnat Abdul Hye and Nahida Nahid received EXIM Bank-Anyadin Humayun Ahmed Literary Award 2020 respectively in lifetime achievement and young litterateur categories at the event.
The award, an initiative of Anyadin and EXIM Bank, is awarded to two writers every year on the eve of Humayun Ahmed's birthday.
Hasnat Abdul Hye received Tk 5,00,000 and Nahida Nahid received Tk 1,00,000, crests, certificates and uttariyas. State minister for cultural affairs KM Khalid was present as chief guest at the event, which was presided over by former cultural affairs minister Asaduzzaman Noor.
Anyadin editor Mazharul Islam, Humayun Ahmed's widow Meher Afroz Shaon and EXIM Bank managing director and CEO Mohammed Haider Ali Miah were present at the event.
'Humayun Ahmed always tried to bring out the good side of an antagonist. He believed that good exists in every person. Humayun Ahmed made many popular teleplays and drama series among which Oyomoy, Bahubrihi, Kothao Keu Nei and Nandailer Younus, received huge response from the audience,' said KM Khalid.
'I feel very fortunate to have had the opportunity of working with Humayun Ahmed. He always contacted me regarding acting. He always got upset whenever I turned an offer down. When I joined politics, he became angry with me. His works will continue to entertain people for years to come,' said Asaduzzaman Noor.
Family members and different organisations will observe Humayun Ahmed's birth anniversary today.
Humayun Ahmed's widow Meher Afroz Shaon will place floral wreaths on Ahmed's grave at Nuhashpalli, Gazipur in the morning.
Besides, Himu Paribahan, a Facebook-based platform of Humayun Ahmed's fans, will organise a two-day programme.
Members of Himu Paribahan will cut a cake in the morning. Ten members of the organisation will hold cancer and COVID-19 awareness processions at TSC, Suhrawardy Udyan, Ramna Park and Dhanmondi Lake in the capital. The organisation will also stream a live music show featuring Humayun Ahmed's songs at 10:00pm on its Facebook page.
Himu Paribahan will stream a live discussion programme on its Facebook page on Saturday.
Young writer and journalist Hasan Shawon's first book 'Humayunke Niye' will be published today. Humayun Ahmed's brother cartoonist Ahsan Habib has designed the cover and wrote the introduction for the book, which will be published under the banner of Avayaa Limited.
Different TV channels will pay tribute to Humayun Ahmed airing special programmes.
Want stories like this in your inbox?
Sign up to exclusive daily email
More Stories from Literature