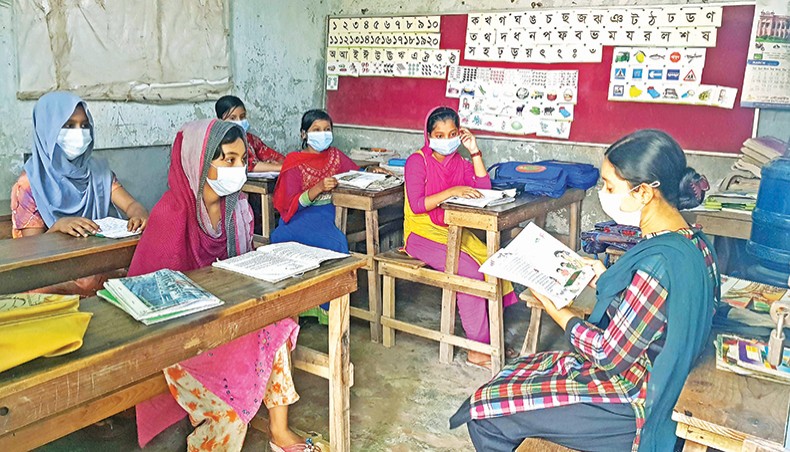 The COVID-19 outbreak widened the rich-poor gap in education as students from affluent families completed their syllabuses by attending online classes while many from needy families remained out of touch with their studies amid the ongoing closure of educational institutions.
Though the government has introduced teaching lessons on Sangsad TV and through radio broadcasts and has also instructed educational institutions to run online-based classes since the closure of the institutions in March, many students, mostly from needy families, did not attend these remote lessons and have thus seriously been affected, revealed two recent studies.
A number of students from needy families living in the capital told New Age that they were struggling to do the assignments that their schools were giving to assess their skills to promote them to next classes while children from the middle income and rich families found the tasks comfortable.
Sumaiya Islam Setu, daughter of a rickshaw puller, who studies in Class 6 at Baganbari Adarsha High School in the capital's Madartek, on Sunday said that she was facing difficulties to do the assignments on the Bangla, English and Social Science textbooks that her school gave her last week.
'I took the assignments but I'm struggling to carry out these as I could not follow the online classes that the school held because I have no necessary device for the purpose,' Setu said.
She said that she could not watch Sangsad TV either, which broadcasted lessons for pre-primary– Class 9 students.
'We don't have any TV set at home and my father does not allow me to go to others' home to watch TV,' she said.
Setu's neighbour Nuzaira Khan, daughter of a private service holder, who also studies in Class 6 but at high-end South Point School, said that she found her assignments quite comfortable.
Nuzaira's classmate Raisa Islam, daughter of a businessman, also said that the assignments were an easy task for her as she completed all her textbooks twice during the pandemic with the help of three private tutors.
Dhaka University's English professor Syed Manzoorul Islam said that these facts reflected an undesirable and faulty education system where education could be bought like any other commodity.
'The rich and higher-middle class people, not more than 10 per cent of the total population, send their children to expensive institutions and arrange coaching and buy guides for them for better results, which the parents of even many talented students from the poor class cannot afford,' Syed Manzoorul said.
'We see the reflection of this gap in the results of the public exams and admission tests of the universities as well,' he said, adding that many children could not even complete their primary education due to poverty.
The ongoing COVID-19 prevalence will widen this rich-poor gap, he said.
Many people who lost their jobs because of the outbreak engaged their children in jobs, he said, adding that children who could not continue their studies for lack of device would develop apathy to returning to the school.
Dhaka University's Institute of Education and Research professor Shah Shamim Ahmed in a study found that 50 per cent of children from poor families had no access to remote teaching platforms like Sangsad TV broadcast while 30 per cent of government primary school students watched those TV programmes regularly.
His study titled Recovery of Learning Loss Created Due to COVID-19 Crisis: Analysis of Bangla Learning Outcomes and Identification of Content, which he presented on October 28 at a webinar organised by Room to Read, revealed that Sangsad TV broadcasts could cover only one-fourth of the textbooks of the pre-primary – Class 9 students.
There was no provision for teaching textbooks through radio broadcast or mobile phone short messages, Shamim said, adding that those modes were used just to keep the students in touch with the textbooks.
Children from needy families did not even get support from their parents as they were not even interested enough or able to teach students at home, he said.
The efficacy of the online classes, operated by various educational institutions, were though not beyond question but those at least could finish the syllabuses and compelled the students to study at home, Shamim said.
He said that officials of the National Academy of Primary Education, DPE and NCTB and teachers of the IER worked with him while conducting the study.
A joint study, conducted by A2I policy specialist Afzal Hossain Sarwar, A2I educational technology expert Modammad Rafiqul Islam and UNICEF's education specialist Iqbal Hossain and launched on October 24 in another webinar organised by CAMPE, also predicted that the rich-poor gap in education would be widened.
The study showed that that 3.7 crore of the country's 4.1 crore students, who had access to online classes or the TV broadcasts could not learn their lessons properly for lack of facilities and training of teachers for conducting such classes.
It revealed that only 30 per cent of students watched classes aired by TV channels regularly.
Students from poor families or living in remote areas mostly suffered for having no access to such classes, which would increase the dropout rate, it further said.
It also predicted that the dropout rate would cross 30 per cent at the primary and secondary levels.
Education minister Dipu Moni and sate minister for primary education Md Zakir Hossain, however, claimed that the ministries were preparing the recovery plans to keep all students in the school and make up their lesson losses amid the COVID-19 outbreak.
Want stories like this in your inbox?
Sign up to exclusive daily email
More Stories from Country