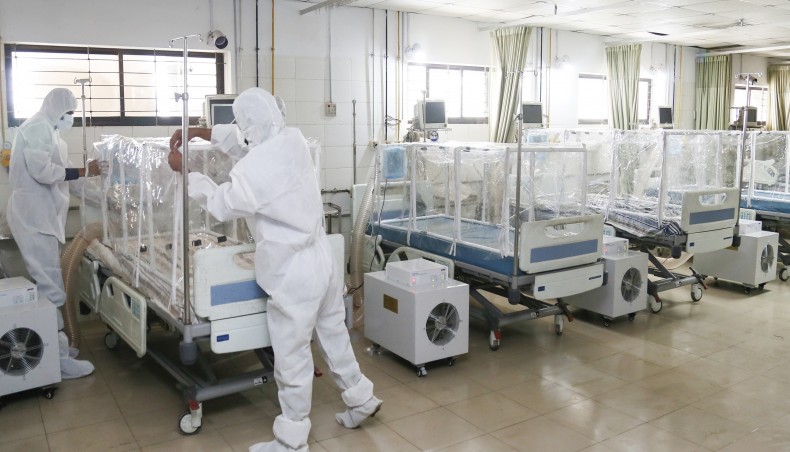 Beximco Pharma, Bangladesh's one of the leading pharmaceutical companies, has recently donated a number of negative pressure isolation canopies to Bangabandhu Sheikh Mujib Medical University in order to contain the spread of COVID-19 from patients to healthcare workers.
The isolation canopy has been developed by a multi-institutional team of researchers, led by Professor Khondkar Siddique-e Rabbani, founding chairperson and now Honorary Professor of biomedical physics and technology department of Dhaka University, following clinical requirements suggested by a team, led by Professor AKM Akhtaruzzaman, head of anaesthesia, analgesia and intensive care medicine department of BSMMU.
Engineers of Asia Pacific University and of a non-profit manufacturing company named BiBEAT Ltd were also involved in the project.
'COVID-19 is highly contagious and patients pose a great risk to other patients as well as health workers including doctors and nurses in a hospital setting. The negative pressure isolation canopy will cover the patient on a hospital bed especially in ICU, and protect others from getting infected by creating a negative pressure environment inside the canopy.' Professor Rabbani said.
This canopy uses an ultraviolet light chamber which destroys all micro-organisms and viruses before the air is further disinfected and cleaned by a HEPA filter.
The cost of the device is significantly less compared with those made by foreign countries.
BSMMU vice-chancellor Professor Kanak Kanti Barua, and DU VC Md Akhtaruzzaman provided logistic support and lauded the efforts taken by the researchers during this pandemic. Late Professor Jamilur Reza Chowdhury, past VC of Asia Pacific University, also took special interest in this project.
Beximco Pharma managing director lawmaker Nazmul Hassan said, 'Healthcare workers including doctors and nurses face tremendous challenges while treating COVID-19 patients. We are proud to be a part of this initiative which will play an important role in protecting the frontline medical staff.'
The research project was funded by Beximco Pharma and Sweden's Uppsala University and the first prototype of the isolation canopy was demonstrated at BSMMU in July, 2020. Later, four units were made by BiBEAT Ltd and delivered in October.
Want stories like this in your inbox?
Sign up to exclusive daily email
More Stories from Miscellany