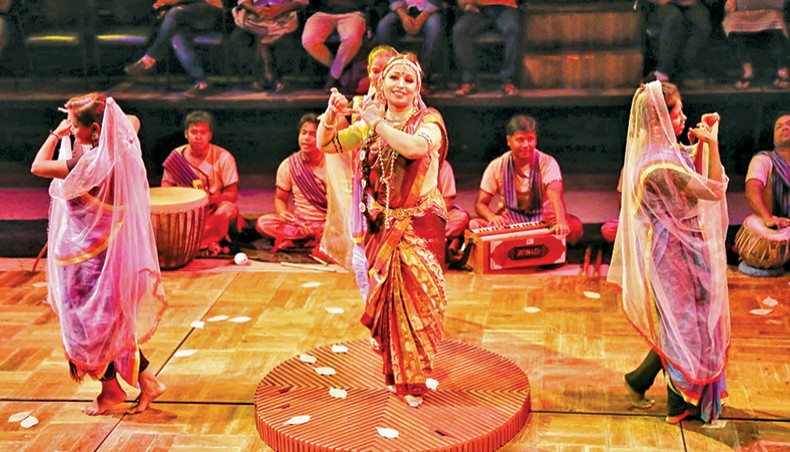 Theatre troupe Swapnadal staged the 80th show of its production Chitrangada after nearly one year at the Studio Theatre Hall of Bangladesh Shilpakala Academy on Friday.
This was the second play staged by the troupe at the academy amid the COVID-19 crisis.
The play, written by Rabindranath Tagore, has been directed by chief secretary of the troupe Zahid Repon.
'The 79th show of the play was staged on November 22, 2019 at the same venue. We staged the play after nearly one year at Bangladesh Shilpakala Academy, which has recently opened its doors due to the COVID-19 outbreak. We staged several shows of our popular play Tringsha Shatabdi in February in India and staged our monodrama Helen Keller on March 8 marking the Women's Day. After Bangladesh Shilpakala Academy opened again, we staged our play Tringsha Shatabdi on October 31,' said Zahid Repon.
'Both of the shows of our plays were enjoyed by a large audience. We are glad because people are coming to watch plays amid the COVID-19 crisis. Besides, BSA is also providing its venues for free,' added Zahid Repon.
Chitrangada, a govt grant-winning play, was produced in 2011. It emphasises triumph of inner beauty over physical beauty.
Rabindranath Tagore wrote the lyrical play in 1892 which revolves around the story of the affair between the legendary Arjun and the Manipuri princess Chitrangada, as narrated in the epic Mahabharata.
Chitrangada depicts an unattractive Manipuri princess Chitrangada's fascination for lord Arjun. Arjun, however, does not show any interest in her. When Chitrangada earns physical beauty through the blessings of the gods namely Madon and Bashonto, Arjun gets magnetically drawn towards her.
Subsequently, when Chitrangada realises that it's her physical beauty that attracts Arjun, she distances herself from him.
Swapnadal artistes Sonali, Jueyana, Shishir, Shyamol, Rana, Happy, Arka, Sumaiya and others acted in the play.
Want stories like this in your inbox?
Sign up to exclusive daily email
More Stories from Theatre