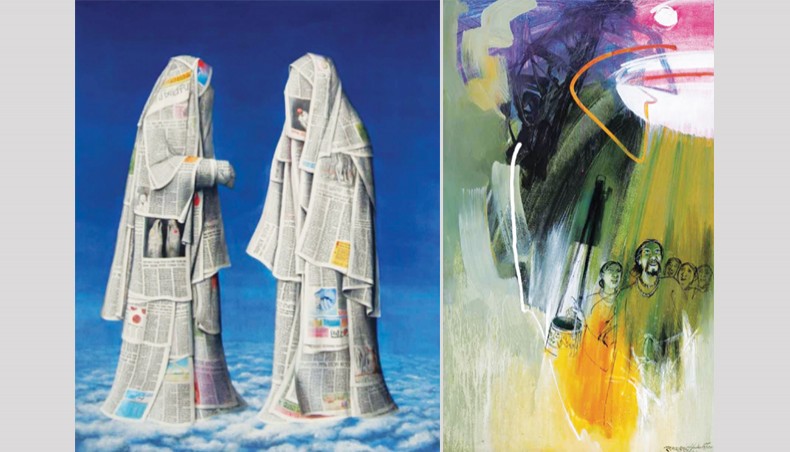 An online group show titled 'Scaled Up' featuring works by both renowned and emerging artists is under way at Galleri Kaya's Facebook page and www.artitude.com.bd.
The 16-day exhibition was inaugurated on October 31 and features a total of 23 artworks by 15 artists.
The artists have explored a wide range of mediums such as acrylic, oil, charcoal, pastel and mixed media on canvas.
The event features works by Nitun Kundu, Samarjit Roy Choudhury, Hashem Khan, Hamiduzzaman Khan, Chandra Shekhar Dey, Mohammad Eunus , Jamal Ahmed, Ranjit Das, Goutam Chakraborty, Mohammad Iqbal, Aloptogin Tushar, Maksuda Iqbal Nipa, Ashraful Hasan, Kamaluddin and Bishwajit Goswami.
The artworks represent a range of themes, including mystic bard, scenic beauty of nature, women, human emotion and contemplation, loneliness, Nachole uprising of the Santals, interpersonal communication, relationship between women and animal, rural Bengal, betel leaf and betel nut.
Acclaimed artist Hashem Khan's work titled 'Baul' shows a baul troupe rendering songs to the delight of the audience while a woman is seen playing an ektara. The scene expresses the joy of listening to music in subdued red, black, white and purple.
Acclaimed artist and sculptor Hamiduzzaman Khan's acrylic work titled 'Autumn on the Lake' shows a lake where some boats are anchored and the lake is surrounded by lush green trees.
Samarjit Roy Chowdhury has used indigenous pigment to develop his work 'Rural Bengal'. Inspired by traditional nakshikanthas, the elements the artist used recall rustic life, kites, fishes and trees among others.
Renowned artist Jamal Ahmed's mixed media painting titled 'Gipsy' shows a woman standing on the bank of a river wearing a drenched red sari. The work, by way of depicting the beauty of rural women, presents a riverscape showing large number of boats anchored along the bank.
Acclaimed artist Ranjit Das's acrylic painting titled 'Thoughts' shows part of portraits within rectangles while a jagged, elongated shape placed right next to them seems to echo the anxiety that overwhelms the men the artist has depicted. His flair for lines and the painterly quality lend the work a certain emotional charge.
Artist Aloptin Tushar's painting titled 'Nachol Bidroho' shows the Santals waging a war armed with bows and arrows. The artist remembers the peasant-santal uprising of 1949-50 in which the santal community in Nachole area under Nawabganj sought to establish their rights over their land.
Artist Ashraful Islam's acrylic painting titled 'Conversation-3' shows two human figures in conversation but the duo seems unnaturally inert as they are completely covered with newspapers. The work refers to the collapse of communication in the information age.
'One has to take appointment for visiting the gallery. We are giving permission to the visitors and art collectors as they want to watch the work physically. All of the artworks of the exhibition have been painted in large canvases. Some of the artworks are collected and some belong to our gallery,' Rajen Gain, exhibition coordinator of Galleri Kaya, told New Age.
The exhibition has been sponsored by ADN Group. The online and media partners are respectively www.artitude.com.bd and bdnews24.com.
The exhibition will remain open till November 15.
Want stories like this in your inbox?
Sign up to exclusive daily email
More Stories from Exhibition