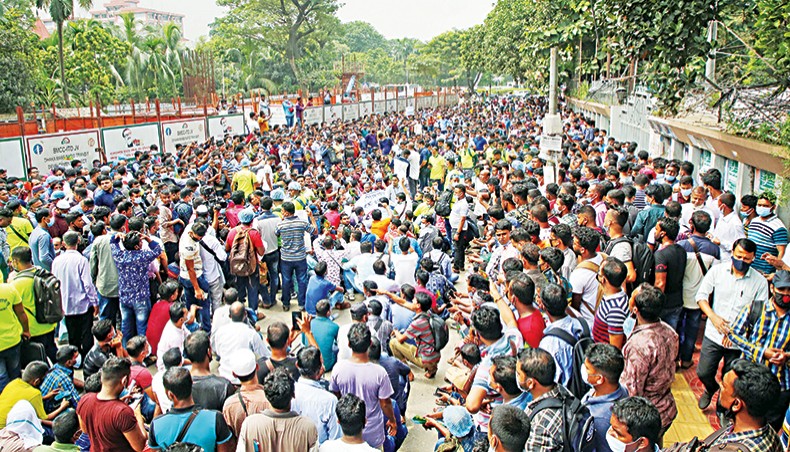 Several thousand Bangladeshi migrant workers who came to the homeland for enjoying holidays and got stranded due to the coronavirus pandemic, demonstrated in front of the foreign ministry on Monday demanding their quick return to Malaysia.
The demonstrators said that the visas of most of the migrants have expired as they could not return in time and that created complexity in their return. They said that there were over 25,000 Malaysia-bound expatriates stranded in the country due to pandemic.
They demanded government's interference so that they could return to their workplaces at different cities in Malaysia.
Foreign secretary Masud Bin Momen addressing the demonstrators assured them that the government would discuss the issue with Malaysia government to resolve the problem.
Migrant worker Md Mohiuddin said that he had come to Bangladesh on January 28 and was scheduled to return on May 6, but couldn't return for virus pandemic.
He said that his visa validity was expired on May 6 and now he was in uncertainty over his return like 20 other migrants of his village at Taltali in Barguna.
The migrants said that without government's interference their return to Malaysia had become uncertain.
Migrant Nazrul Kabiraj said that he went to Malaysia spending Tk 6 lakh that his father had collected selling their land and ornament of his mother only three years back.
'I couldn't refund my expenditure yet. I will be loser if cannot go,' he said.
The migrants also demanded a government fund for their financial assistance as they have been jobless for over seven months.
Want stories like this in your inbox?
Sign up to exclusive daily email
More Stories from Foreign affairs