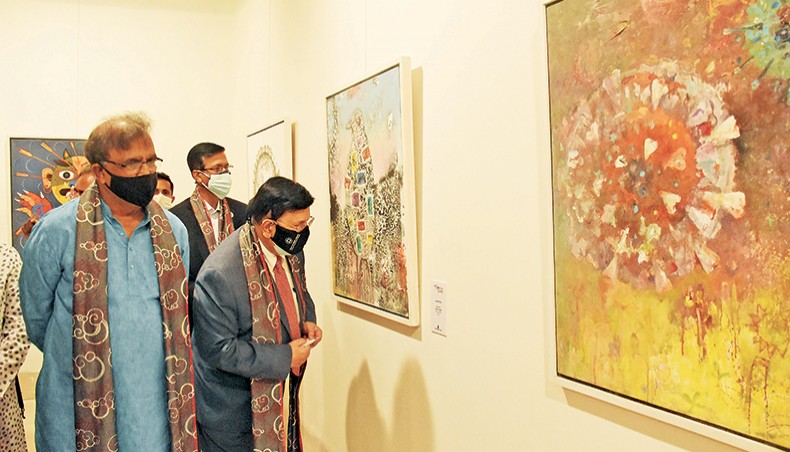 A group art exhibition, titled Art Against Corona, portraying the COVID-19 outbreak and its impact on society, nature, people and animals is under way at Gallery 1 and Gallery 2 of the National Art Gallery of Bangladesh Shilpakala Academy.
The month-long show, organised by Bangladesh Shilpakala Academy, features a total of 235 artworks by 235 young and renowned artists. The majority of the displayed works have been done in acrylic. Besides, the event features oil, mixed media works and installations.
The paintings are an outcome of an art camp held in July at BSA under its special art camp programme. The academy provided the participating artists with the necessary materials. Each artist received an honorarium which ranged from TK 5,000 to TK 8,000 and TK 10,000 according to the BSA rankings.
Foreign minister AK Abdul Momen inaugurated the exhibition on October 27 as chief guest, while state minister for cultural affairs KM Khalid, the ministry's secretary Md Badrul Arefin and acclaimed artist Professor Jamal Ahmed were present as special guests
BSA director general Liaquat Ali Lucky presided over the programme.
'We have proved that we are a heroic nation. Not a single person has died from starvation amid the crisis. Everyone worked together for the welfare of the motherland. The exhibition is indeed a praiseworthy initiative in the time of COVID-19 as many artists have been going through a tough time,' said AK Abdul Momen.
The artworks speak to the issue of how the new COVID-19 outbreak has changed both present and future, affecting the very fabric of our life. They also take into account how animal and bird population were also affected, besides human relationship and social-economic realities. The crisis of the marginalised also became a focal point for many. However, monsoon rain, scenic beauty alongside concerns over hygiene practices also served as themes.
To mention a few works, artist Shahjahan Ahmed Bikash's oil painting titled 'Somoyer Sathey' shows a man standing wearing a mask in no man's land while the background remains suffused with white and coffee colours.
Country's leading female painter Kanak Chanpa Chakma's acrylic work shows an ethnic woman working in a hilly area wearing a yellow sari while she has a mask on.
A royal Bengal tiger painted on a stamp also wears a mask in an unusual acrylic work created by Purnia Mrittika, which is titled 'Bangladesh O Corona'. The work emulates a stamp and it even bears the value, which is stated as 20, and the name of the country — Bangladesh, alongside the word COVID-19. At the bottom of the work a slogan appears urging people to save animals by way of maintaining hygiene.
Zahid Hossain's acrylic painting titled 'Attar Chhanda' shows a man wearing a red dress playing drums amid festivity and enthusiasm. The background is covered with various lines, forms and shapes of various colours including white, blue, yellow and red.
The exhibition will remain open till November 26.
Want stories like this in your inbox?
Sign up to exclusive daily email
More Stories from Exhibition