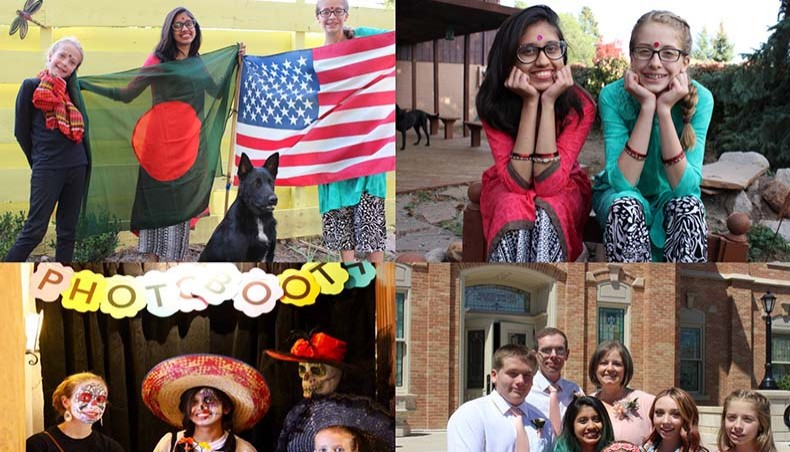 Cross-cultural exchanges as part of early education expand the horizon of learning for your students. A group of students, who participated in the Kennedy-Lugar Youth Exchange and Study, commonly known as the YES programme, shared their experience with New Age Youth
Kennedy-Lugar Youth Exchange and Study, known as the YES programme, is an initiative to expand communication between the people of the United States and other countries in order to promote mutual understanding and respect.
The programme was initiated in Bangladesh in 2004 creating an opportunity for students to spend one academic year in any US high school while living with a host family to understand US culture better.
Till date, more than 385 Bangladeshi students have completed the programme. During their stay in the US, they worked as youth ambassador to Bangladesh. Students who participated in the programme considered the experience uplifting.
Living with an American host family
Marzaan Mirza (2016-2017)
GROWING up in a Bangladeshi household, I never realised how different the family dynamics of an American household would be in comparison to ours until I went on my cultural exchange programme. After meeting my host family, who were residents of Flagstaff, Arizona state, for the first time, I understood how each American family was unique in their own way.
No amount of American films would prepare you for the real deal. I lived with an American family of five members and each of them took turns doing the chores around the house, as well as cooking, diluting the concepts of gender roles in our of the world. I also learned to do my own chores.
We used to go to church every Sunday which gave me an opportunity to not only learn about their religion but also teach them about mine. Not to mention, celebrating holidays like Thanksgiving, Christmas, et cetera was a lot of fun with all my host siblings.
The YES Program gave me another family whom I will cherish for life, and I will be forever grateful for that.
One academic year in an American high school
Maisha Tabassum (2019-2020)
COMMUNITY High School, built in the middle of downtown Ann Arbor, was a magical place in all its painted murals, the people, and the teachers, whom you called by their first name. Its tiny garden and all the magic in each classroom were what made my cultural exchange program magical.
Community High School also offered some of the most incredible courses I had the opportunity to take — from the rich Literature of Harlem Renaissance to Open-studio equipping me with magnificent art supplies. I will forever remember the special community resources programme of the school, which allowed me to take a female health class in the University of Michigan and the excitement of walking through university halls and feeling grown-up. It was a brilliant experience to take a university course, despite the stress of turning in heaps of assignments before deadlines.
I can never forget Community Ensemble Theatre and being the assistant make-up crew head. In that role I experienced the rush and excitement and the piles of coffee cups for when Tech Week arrived; the hours and sweat spent on making the stories come to life till the day it was suddenly the final show — the day when we took our last bow on stage for Tech Week.
I can never forget the people, the customs and the environment of Community High School. My school friends embraced my own culture and always showed a willingness to learn about Bangladesh. I can never forget Community High School and the memories I left there.
Contributing to my host community in the United States
Samo Sulok (2017-2018)
IT WAS only during my exchange year in the United States I truly grasped the importance of community service. The way I see it, investing our time and effort into volunteering to serve our community is a way for us to give back to our society; a way for us to express our gratitude towards our roots.
In the ten months of the K-L YES Program, I stayed in a tiny village of Wisconsin. I was able to serve the community by volunteering at almost every opportunity I was presented with by my host community. Starting from taking part in food-drives for the needy and collecting donations, to categorising and shelving books at the public library, and even volunteering to tutor children at the Middle School during my study break, I hopped on any opportunity to contribute to my host community.
In doing so, I even reached a massive milestone of more than 100 Community Service Hours by the end of my exchange year.
In retrospect, it was not about how many hours I put into volunteering, but how exhilarating it was to know I played my part in trying to help someone in need and give back to the roots which honed me as a human being.
Gaining leadership skills through cultural exchange
Jarin Tasnim Raisa (2015-2016)
IF I tell you that a girl — who used to confine herself within four walls of her room out of shyness — is socialising with people from all over the world, how many of you will believe this? This is the transformation which happened to me during my cultural exchange in the United States of America as a Kennedy-Lugar Youth Exchange and Study scholar in the 2015-2016 academic year.
The moment I landed in the USA I was met with hundreds of pairs of eyes of other exchange students which were all full of the same wanderlust as mine. At that moment, I realised the importance of valuing others' opinions irrespective of their nationality, caste, skin tone and so on.
Tolerance of all kinds of diversity is an essential quality of a leader, and I understood it in my exchange year. During my K-L YES Program, I have volunteered for more than 100 hours which helped me to gain skills to work with different kinds of people.
My exchange year gave me opportunities to meet new people each and every day, and I was constantly learning various things from them. As a cultural ambassador, I tried to take initiative to handle responsibilities which threw new challenges to me and developed my critical thinking skills. This is how the cultural exchange has played an important role in the process of me gaining leadership skills.
Making friends all over the world
Faruque Ratul (2009-2010)
A DECADE has passed since my Kennedy-Lugar Youth Exchange & Study (K-L YES) program in the United States of America, yet the connections I have made ten years ago from my cultural exchange year are still intact. The first friend I made was my Local Coordinator Mollie Kidari, who was working for AYUSA — a host family placement organisation.
On Sundays, she plays keyboards at a café, and she also hosts exchange students like me. It was Mollie who received me at the airport and drove me to her home. Then my host mother Katrina Ontiveros — a woman I am still in touch with — picked me up from Mollie's home to take me to her 5-acre ranch in Laveen, Arizona.
My Host family placement organisation AYUSA used to organize activities every month to instil good values among the exchange students placed in Arizona; values of tolerance, teamwork, friendship and leadership.
In the course of such meetings, I made another friend by the name of Vano Abramashvili from Georgia. After our respective exchange year, we kept in touch over Facebook, and recently had our first video call in the midst of this pandemic. Vano is still the same and we laughed at some of the old jokes we used to make during our exchange year.
I am also connected with my double placement host brother from Pakistan Syed Haseeb Ahmed, who was placed in the Ontiveros host family same as me. During our exchange year, Haseeb aspired to study Aeronautical Engineering after high school graduation. However, over the last conversation I had with him, he has finished studying Automobile Engineering and is currently working for Toyota. He still lives in Karachi, Pakistan. We were brothers in our exchange year and now we have become life-long friends.
These are just a few examples of people with whom I have become permanently connected, because of my exchange year. However, I have more friends in countries such as Holland, France, Jordan, Lebanon, Mexico, and in the United States itself, all thanks to the K-L YES Program. If I mention them all here, this will never end.
However, if you are a student of Bangladeshi high school, and if you are aged between 15-17, then you can apply for the K-L YES Program of the 2021-2022 academic session. If you do not start making friends from all over the world now, just as I did a decade ago, then when will you start?
Concluding remarks
Earl Miller, the US Ambassador to Bangladesh shares his thought with New Age Youth on this particular scholarship and how this is an exciting opportunity for many young individuals, 'Just this week, I had the chance to meet with 26 of our YES students who spent the past year in the United States — living with American host families, attending US high schools, playing in school sports teams and participating in other on-campus and community initiatives. I was impressed and inspired.
Through the Kennedy-Lugar Youth Exchange and Study program this group of Bangladeshi high school students and 385 others before they have had a once-in-a-lifetime opportunity to learn, explore, and experience first-hand American society and culture. As importantly, they were able to help Americans learn more about and better understand Bangladesh. Through the YES programme each student becomes an ambassador for Bangladesh and builds enduring bridges of friendship, linking Bangladeshis and American.'
So, this can be a nice chance for young students to grab and get to explore a new culture and make friends with people from all over the world.
Nahid Riyasad has compiled the responses for this story and is a member of the New Age Youth team.
Want stories like this in your inbox?
Sign up to exclusive daily email