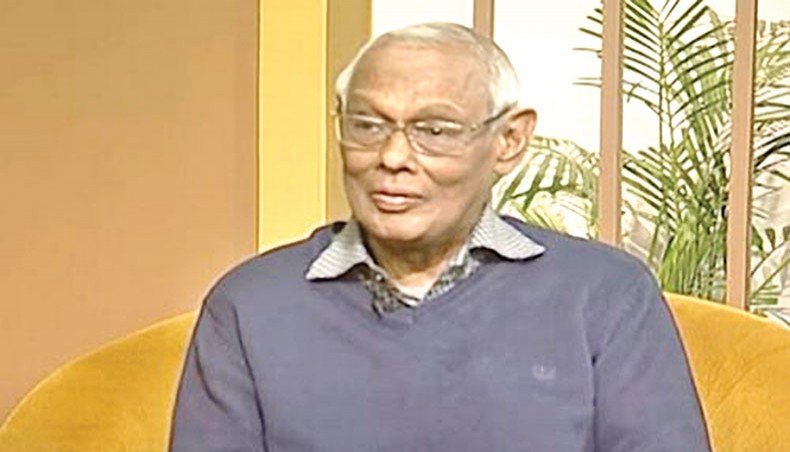 Freedom fighter and cultural personality Haider Anwar Khan Juno died in a hospital in Dhaka on Thursday.
He was 76. He is survived by his daughter and son.
'My father passed away at Gonoshasthaya Nagar Hospital at about 1:30pm,' said Juno's daughter Ananya Laboni.
Juno, also a communist leader and writer, was admitted to the intensive care unit of Square Hospital on September 15 as he was suffering from pneumonia and kidney diseases. He was later shifted to Gonoshasthaya Nagar Hospital on October 22.
Laboni said that the body of her father would be kept at the Central Shaheed Minar between 10:30am and 12:00pm today to allow people of all walks of lives to pay last respect to him. He will be given state honours there.
His first namaz-e-janaza was held at Masjid ut Taqwa at Dhanmondi after Maghrib prayers on Thursday and he will be buried at Banani graveyard after his second namaz-e-janaza at Dhaka University mosque today afternoon, Laboni said.
Born on December 29, 1944 in Kolkata, Juno was imprisoned after joining the Education Movement of 1962.
He became a central leader of undivided Purba Pakistan Chhatra Union.
Juno was an organiser of mass uprising in 1969 and became Biplobi Chhatra Union president when the organisation was formed in 1970. He was the commander of freedom fighters in Shibpur of Narsingdi during the Liberation War. He was a guerilla fighter.
When the Workers Party was formed, he became a member of the party's central committee.
He was the president of the Gano Sanskriti Front. He has also served as general secretary of Bangladesh-Cuba Solidarity Committee.
Younger brother of Communist Party of Bangladesh leader Haider Akbar Khan Rano, Juno's paternal home is in Barashula village in Narail.
A leading figure in cultural movement in the country for about three decades, Juno wrote a number of articles and books including Shibpurer Ranangan and Unosotturer Dinguli. He also wrote a novel.
Prime minister Sheikh Hasina phoned Juno's elder brother Rano on October 25 evening and his daughter Ananya Laboni on October 26 to know the health condition of the freedom fighter, Laboni said.
Want stories like this in your inbox?
Sign up to exclusive daily email
More Stories from Politics