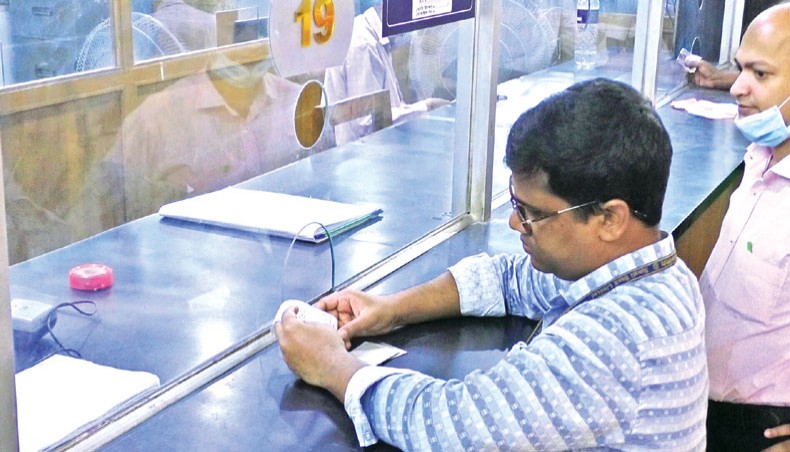 The government instruction for the mandatory use of face masks to get services at both public and private offices and at any gathering is largely ignored despite the fear that the country may face a second wave of COVID-19 infections in the coming winter.
On Wednesday, many people were seen without masks at rail stations, filling stations, bus and launch terminals, public transports, market places and religious institutions while some were seen hanging masks under their chins.
The situation is worse in the districts where people are relatively more reluctant to wear masks.
In a bid to check the further spread of COVID-19 infections, the last cabinet meeting on October 25 presided over by prime minister Sheikh Hasina asked the agencies concerned to follow the 'no mask, no service' policy in any public gathering at markets, offices, mosques and other religious and educational institutions.
'There is no alternative to the use of face masks to check the possible second wave of COVID-19 infections in the country when we have no vaccine and no known treatment,' IEDCR principal scientific officer ASM Alamgir told New Age.
'Using masks will help keep COVID-19 at bay,' he said.
Though the instruction for the mandatory wearing of masks for getting services came on October 25, the government is yet to publish any circular in this regard.
State minister for public administration Farhad Hossain said that all agencies concerned, the field administration, including deputy commissioners and upazila nirbahi officers, were already communicated to implement the instruction more effectively.
'All field establishments, including health facilities, social welfare offices, launch terminals, railway stations, passport offices and local government bodies, have been asked not to give services to those not wearing masks,' he told New Age.
He, however, said that the health facilities must treat all patients on humanitarian ground.
Farhad said that the law enforcement agencies were also instructed by the home ministry to implement the cabinet's instruction strictly to check the possible second wave in the winter beginning from mid of November.
'The implementation of the "no mask, no service" policy would have more visibility in no time with countrywide awareness campaigns on the use of masks,' the state minister added.
On October 19, the prime minister asked the relevant agencies to ensure the mandatory use of masks, citing expert views that the use of masks could alone prevent 95 per cent of the infections.
The government had enforced a countrywide shutdown restricting public movement and closing offices and businesses from March 26 to May 30 to contain the coronavirus spread following its detection on March 8.
But the government's restrictions, including enforcement of lockdown in different areas, were largely ignored.
The people not wearing masks are making different excuses like 'wearing masks is uncomfortable', 'coronavirus is disappearing from the country', 'I have lost my mask', 'I have come out for a short time', 'people cannot hear me', etc.
Most of them, however, said that they knew that wearing masks was beneficial for them.
The situation has, however, improved in the Bangladesh Secretariat, hospitals and financial institutions like banks where almost all were seen wearing masks.
At Dhaka Railway Station, Kamalapur, a ticket clerk without any face mask was selling tickets to people on Wednesday morning.
Approached, neither the clerk nor the ticket buyer made any comment.
At Meghna Model Service Centre, a filling station near the capital's Hotel Intercontinental, posters saying 'no mask, no service' were seen pasted in the afternoon but many wearing no mask were seen buying fuel.
Approached, Abu Hena from Moghbazar in the city, a motorcyclist who was taking fuel without wearing a mask, searched his pockets and said, 'I forgot.'
Md Adar from the capital's Mirpur who got down from a bus at Farmgate said that he wore no mask as it was uncomfortable. 'My face sweats if I wear one.'
A bus conductor of Bihanga Paribahan who gave his name as Alim at Farmgate said that he wore no mask as he had to speak a lot and people could not hear him if he wore mask.
'I had put off my mask a while ago,' said Shariful Islam from the capital's Sheorapara while wearing a mask in a Mirpur-bound BRTC bus.
At Karwanbazar, a large number of buyers and sellers in its kitchen market, grocery shops and cloth market were seen without masks.
'I cannot breathe well if there is a mask over my face,' said Ashu Mia, a salesman at the Karwanbazar cloth market who hung his mask under his chin and his customers, too, had no masks over their faces.
'I believe that I won't catch the coronavirus,' a buyer at the Karwanbazar kitchen market wearing no mask said.
'We will buy masks after boarding our launch', a Barishal-bound passenger, Shahinur Islam, along with his family members said at Sadarghat launch terminal.
'I saw that the bus staff and only six to seven passengers were wearing masks during my Khulna–Dhaka travel by an Eagal Paribahan bus between Monday 10:00pm and Tuesday 12:30pm. The situation at the Sonadanga bus terminal in Khulna was similar,' said Tapati Das of Debduar, Paikgachha, Khulna.
'There is no coronavirus in our area. So we don't wear mask,' said Jehel Islam of Nakipur under Shyamnagar in Satkhira.
The New Age correspondents in Khulna, Satkhira, Jashore, Barishal, Cumilla, Feni, Panchagarah and Lakshmipur reported that the government instruction for the mandatory use of masks was largely ignored.
Cabinet secretary Khandker Anwarul Islam said that they had instructed all the divisional commissioners to operate mobile courts for the enforcement of the government order at all public gatherings, offices and business premises.
He said that the authorities were asked to create awareness about the use of face masks as the prime minister in a recent cabinet meeting said that 95 per cent infection could be prevented by ensuring the mandatory use of masks.
The Communicable Diseases (Prevention, Control and Eradication) Act 2018 which is hardly implemented has a provision for a maximum six-month jail term or Tk 1,00,000 fine or both for violating the health guidelines when any communicable disease is prevalent.
COVID-19 infections claimed the lives of 5,861 people and the number of total coronavirus cases rose to 4,03,079 in the country till Wednesday, according to the Directorate General of Health Services.
Want stories like this in your inbox?
Sign up to exclusive daily email
More Stories from Country