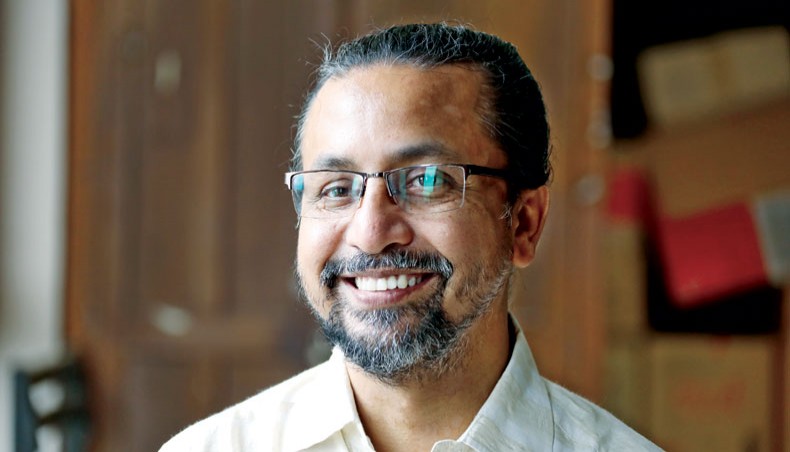 Well known as a playwright and researcher, Saymon Zakaria has written 27 plays so far. He has earned his fame by linking field-level research with academic discourses. His play Shuru Kori Bhumir Naame, based on the liberation war, has been included in the curriculum of the University of Chicago. Additionally, Bodhidrum, another of Saymon's play, has also been included in the syllabus of Calcutta University. Saymon is also internationally recognised for his ethnographic research on the intangible cultural heritage of Bangladesh.
He spoke with New Age about his life-long passion for disappearing cultural traits of Bengal, early years spent in studying rural performances, subsequent research and upcoming ventures.
New Age: How did you start Pranamahee Bangamata? What were the changes you witnessed in our culture during your research?
Saymon Zakaria: From my early childhood I have had the opportunity to watch rural performances at close quarters. I became familiar with Gazirgan, Ashtakgan, Jatragan, Sapkhela-jhapangan, Baul-fakiri songs and others. I began to participate in Jarigan and in dances inspired by my school teachers. As I grew up, I started taking an initiative to put in writing the cultural traits of rural Bangladesh and I was driven by my personal desire to record them. Later, when I started observing plays, songs, dances and rituals as a professional researcher my interest widened and I went to remote villages of different districts of Bangladesh. I started taking pictures and doing audio recordings. A few years later, the name Pranamahee Bangamata came to my mind and I started writing about my first-hand experience of the cultural heritage of Bangladesh in the daily Prothom Alo. It was a regular feature between 1998-99 or 2000. My first publication of the same name contains those write-ups.
New Age: You used to perform as a sang (clown). Has this been the seeds behind your engagement with the rural culture and your subsequent interest in research?
Saymon Zakaria: When I was a child, I used to play the role of a sang to accompany my mother in traditional performances in Muslim marriage ceremonies. It has been very inspiring for me. It would have taken a long time to understand that acting is closely associated with social life if I did not act in those performances.
New Age: How did you get involved with City of Mirrors: Songs of Lalan Sai and what was your role in it?
Saymon Zakaria: City of Mirrors: Songs of Lalan Sai was published in 2017 from Oxford University in New York, USA. The researcher, compiler and translator of this book — Carol Salomon — was a senior lecturer in the Bangla department at the University of Washington in Seattle, USA. She spent thirty years of her life with the devotees belonging to the cult of Lalan fakir aiming to extract an authentic reading of Lalan's songs and to produce faithful translations, besides analysing many metaphysical ideas of the bard.
During these thirty years, she was associated with Khodabox Sai, a follower of Lalan in Chuadanga, and Abdul Karim Shah, another follower of Lalan in Kushtia. At first she wanted to translate 50 of Lalan's songs. She later had a change of heart and decided that she would translate 150 songs. But in March 2009, she died in an accident. After Carol's death, I contacted Carol's husband Richard Salomon, a professor of Sanskrit at the University of Washington. Later, in 2012, I was invited as a visiting scholar at the University of Chicago for two and a half months.
Later I contacted Carol's husband again. He invited me to give a lecture at the University of Washington. At that time I went to his house to see the manuscripts of Carol Salomon and decided that we would not let Carol's efforts go in vain.
After that, I started editing Carol's manuscript in 2012. Later in 2015, I was joined by another American researcher, Keith E Kantu, and we edited City of Mirrors: Songs of Lalan Sai in two years and invited Jeanne Openshaw to write the introduction. Our plan was to publish the book from Bhabnagar Foundation. But after taking a look at the final manuscript, Oxford University showed interest in publishing the book. I thought we should let Carol's work be published from globally recognised publishing house.
My experience during editing and publishing City of Mirrors: Songs of Lalan Sai was educational for me. For Bengali readers, this book contains Bengali songs, its context and meaning, Bangla and English commentary of the editor. I have used the Bangla name I had chosen for the book — 'Arshinagar: Lalan Sai-er Gaan' — as the title of the book.
New Age: Two of your plays, Shuru Kori Bhumir Naame and Bodhidrum, suggest that you have taken into account thousand years of cultural achievements of the Bengali people. What inspired you to set out on a search for such long-standing tradition?
Saymon Zakaria: From the very beginning I wanted to write plays like the village Palakars. Shuru Kori Bhumir Naame is the first Bangladeshi liberation war-based drama written in a metaphorical and regional language. It is included in the syllabus of Bangla department of the University of Chicago. The play Bodhidrum, based on Charyapad, is also included in the master's syllabus of the Bangla Department of Calcutta University. Surely, this two plays are about going back to my roots. It pleases me, when I think that the introduction to my collection of plays was written by Arun Sen and American scholar Clinton B Seely wrote an article about my dramas.
New Age: Bangla Academy awarded you for your contribution to folklore research, does any award impact person's work?
Saymon Zakaria: Awards inspire any self-sacrificing, devoted and disinterested researcher. Any award establishes the importance of a researcher working in the given context. On the other hand, it is a way for a researcher to evaluate the work he or she is doing. I think the Bangla Academy Literary Award for Folklore Research has given me honour as well as those on whom I have been doing my research. After the announcement of this award, many village palakars and devotees called me and said that they received the award given to me. The Bangla Academy deserves thanks and gratitude, as this is the first time that the Bangla Academy has introduced an award for folklore research.
New Age: What are you currently busy with and what do you plan to do in the future?
Saymon Zakaria: Following the coronavirus outbreak, I took an initiative to compile a list of folk artistes from all over Bangladesh. Over a long period of eight months, we have compiled a list of 3,500 folk artistes with their names, identities, addresses and phone numbers. This is the first list of folk artistes of Bangladesh.
Besides, for the first time, I am working on making an authentic text of Lalan's song following the manuscripts of Lalan Saiji's disciples. In addition, I am working with Professor Thibaut D'Hubert of Chicago University to edit the book Sayfulmuluk-Badiuzzamal by poet Alaol for publication from Harvard University.
I have been publishing the journal 'Bhabnagar: International Journal of Bengal Studies' regularly since 2014. Also, we have published the English translation of Akhtaruzzaman Elias's Chilekothar Sepai by the American translator Matthew de Rich and the translation of the book Interpreting Folklore by the American folklorist Alan Dandes in the Bangla translation of Nurun Nabi Shanta.
Want stories like this in your inbox?
Sign up to exclusive daily email
More Stories from Theatre