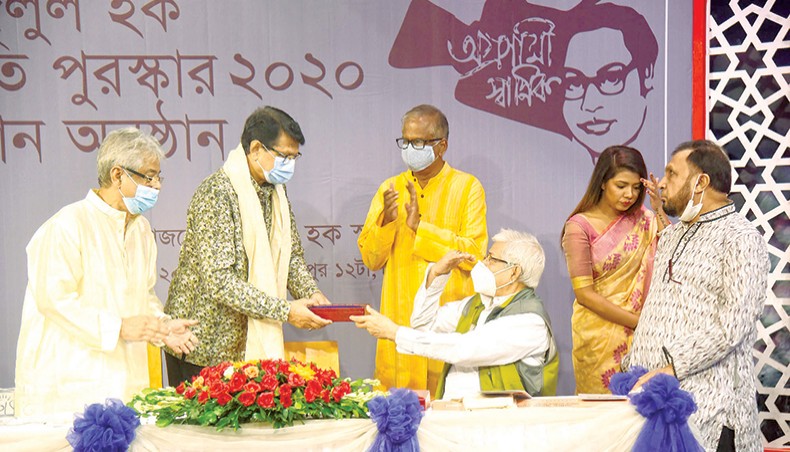 Renowned actor-filmmaker MA Alamgir and cine journalist Shamim Alam Dipen received Fazlul Haque Memorial Award 2020 in a programme held at Channel-i office following COVID-19 health directives on Monday.
Acclaimed filmmaker-producer-writer Syed Salahuddin Zaki presided over the programme where freedom fighter- filmmaker-cultural activist Nasiruddin Yousuff Bachchu and Ekushey Padak winning director-producer-lyricist Gazi Mazharul Anwar were present as guests.
Syed Salahuddin Zaki, Nasiruddin Yousuff Bachchu and Gazi Mazharul Anwar jointly distributed the crests and prize money among the winners.
Each awardee received Tk 25,000, a crest and certificate.
'I have received many awards in my lifetime but this award is special to me as it is named after Fazlul Haque. I want to thank Channel-i for honouring me. I want to act and make films as long as I am alive,' said Alamgir.
Fazlul Haque's daughter Keka Ferdousi shared memories of her father through a video message.
Noted cine-journalist Shafiuzzaman Khan Lodi, Ananda Alo editor Rezanur Rahman, former Priyojan editor Abdur Rahman also spoke at the programme.
Fazlul Haque was the editor of the first cine magazine of the country named Cinema. He also directed a film for children named President, where his son managing director of Channel-i Faridur Reza Sagar acted as a child artiste.
Fazlul Haque's widow noted writer Rabeya Khatun introduced Fazlul Haque Memorial Award in 2004. Since then Fazlul Haque Smrity Committee has been presenting the award every year to a film director and a cine journalist.
The awards ceremony also featured a documentary on Fazlul Haque.
Want stories like this in your inbox?
Sign up to exclusive daily email