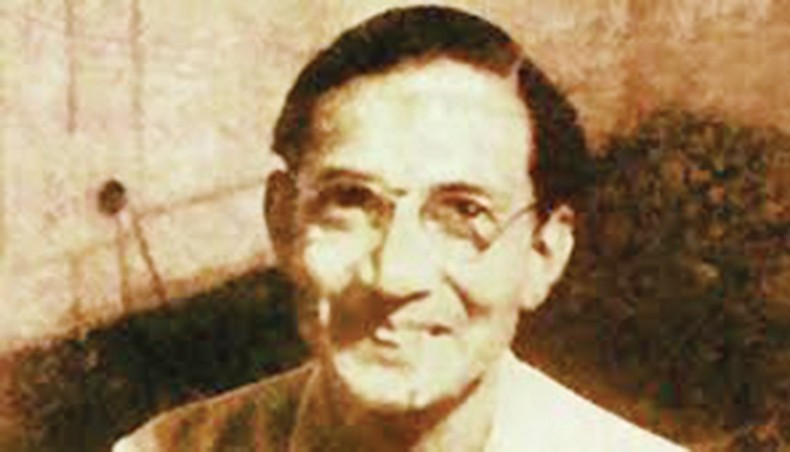 Tuesday is the 119th anniversary of birth of the late legendary singer Abbasuddin Ahmed.
Family members of Abbasuddin Ahmed will organise a doa mahfil and Quran khani marking the day.
'Every year we visit my grandfather's grave and pray for him. We won't be able to go there this year as my father Mustafa Zaman Abbasi is unwell. We will organise a doa mahfil at our home after Asr prayers. We will also hold Quaran khani and give food to orphanage marking the day,' Abbasuddin Ahmed's granddaughter Sharmini Abbasi told New Age.
Abbasuddin Ahmed, who is credited with popularising Bhawaiya songs, was born in 1901 in the Tufanganj subdivision of Cooch Behar district, British India.
He was mostly a self-taught composer and singer. However, for a brief period, he learnt music from Ustad Jamiruddin Khan in Kolkata.
Besides Bhawaiya, he also rendered other folk songs like jaari, sari, bhatiyali, murshidi, bichchhedi, marsiya, dehatattwa and pala gaan and composed songs written by the likes of Jasimuddin and Golam Mostafa.
Abbasuddin was the first singer to lend his voice to Kazi Nazrul Islam's song O mon ramjaner oi rojar sheshe, which went on to become an important part of Eid-ul-Fitr celebrations in Bangladesh.
He recorded over 100 songs of Nazrul, including the popular romantic number Laili tomar eshechhey phiriya.
Aside from his music career, Abbasuddin served as an official of the department of information and broadcasting. He participated in many international seminars and conferences on music in countries such as the Philippines, Germany and Myanmar.
Abbasuddin Ahmed died on December 30, 1959.
For his contribution to music, he received many prestigious awards including the Pride of Performance in 1960, Shilpakala Academy Award in 1979 and Independence Award in 1981.
Want stories like this in your inbox?
Sign up to exclusive daily email