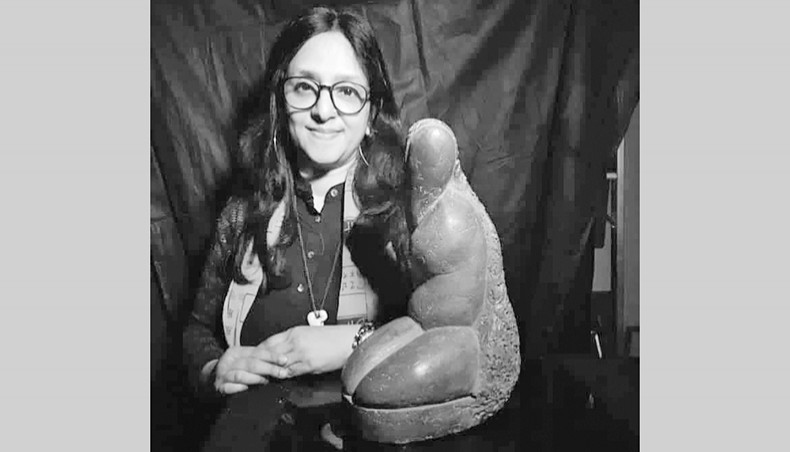 Acclaimed sculptor and artist Sameena M Karim said that online exhibitions cannot attract buyers and art collectors as they don't buy artworks unless they can see the works in person.
'Art galleries across the country were left with no choice but to organise online exhibitions due to the COVID-19 crisis. However, such exhibitions failed to attract art collectors and buyers as they always want to look at artworks in person to verify their quality and authenticity. This is why many artistes were faced with tough times as they could not sell many works,' Sameena M Karim told New Age.
Sameena M Karim graduated from the Institute of Fine Arts of Chittagong University in 1994. She has been running the only art gallery in Chattogram named Mrinmoy Art Gallery since 1998. She has participated in more than ten exhibitions at home and abroad.
'Some Galleries have opened in Dhaka, but there is only one gallery in Chattogram. We will not open Mrinmoy Art Gallery this year and I have no plans to host any physical exhibition in 2020. We have organised two online exhibitions where a few of my artworks were sold,' said Sameena M Karim, who added that she has been raising money for helping people hit by the COVID-19 crisis by selling her artworks.
'I have provided financial assistance to two families and four artists. Artitude organised the exhibition, in association with JAAGO Foundation,' added Sameena.
'The world witnesses a pandemic once every 100 years and we are witnessing one right now. Many artists are trying to permeate their canvases with their thoughts and experiences of contemporary times. I urge the art collectors and art lovers to collect such works as these will give the future generation a glimpse into our present situation,' said Sameena.
She also spoke about her upcoming project.
'I have plans to arrange an online exhibition which will be jointly organised by two or three organisations. Though nothing of this sort was tried before, such exhibitions will draw the attention a broader audience and will open a new chapter for the country's art enthusiasts,' mentioned Sameena.
She also expressed her concern over the continued rape and violence against women across the country.
'We have to ensure a safe environment for women. Many artists have protested against the rise in rape and violence incidents against women across the country and I am no different. All rapists must be brought to justice,' she said.
Want stories like this in your inbox?
Sign up to exclusive daily email
More Stories from Exhibition