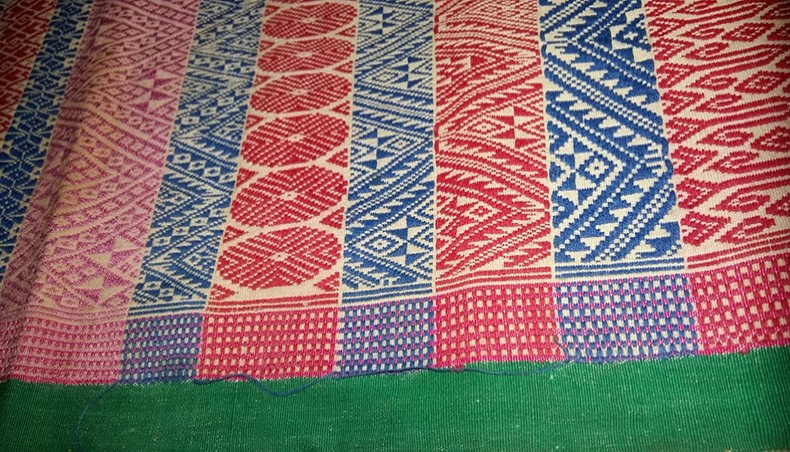 There have been increasing local and global concerns about misuse or misappropriation of indigenous cultures by powerful individuals or institutions, often belonging to dominant communities. While there has been rampant misappropriation of indigenous cultures, there has not been much discussion or voices of resistance in mainstream media in Bangladesh. But, focusing on a khaadi (pronounced closer to 'haadi') two recent news items have raised voices against misappropriation of indigenous culture: an article by Trichi Chakma and Symphony Chakma titled, 'Cultural Appropriation and Why it matters in Bangladesh' (ourtimebd.com, August 27, 2020) and another by Tanisha Chakma titled 'Between appreciation and appropriation: It is time indigenous culture stops being stolen from' (Dhaka Tribune, September 25, 2020). Khaadi is the top part of Chakma women's traditional dress, which is popularly used as a scarf. An authentic khaadi is made in a backstrap loom. Appropriation and misappropriation of traditional dresses, patterns, and other products of the CHT's backstrap loom are common in Bangladesh. There are shops all over the CHT and outside the region that commonly sell mass-produced imitations of indigenous dresses, motifs, textiles and other products made in non-backstrap looms, without consent from the concerned communities.
Ben (বেন) is an age-old backstrap loom tradition of the Chakmas. The backstrap loom tradition is found in all indigenous societies in the Chittagong Hill Tracts. The CHT's backstrap loom produced textiles are distinct from both the products of the frame loom, known as taant, which has a rich tradition in the plains of Bangladesh, and mass-produced machine made fabrics.
The ben tradition, which was passed from generation to generation, from mothers to daughters, is a collective intellectual property. No intellectual part of it is individually owned, either by a weaver or a seller. It embodies collective cultural expressions of the Chakmas. To promote and protect intellectual property across the world, the World Intellectual Property Organisation, a United Nations agency, acknowledges 'traditional cultural expressions' referring to any form of artistic and literary expression in which traditional culture and knowledge are embodied. The WIPO stresses that, 'TCEs are integral to the cultural and social identities of indigenous and local communities, embody know-how and skills, and transmit core values and beliefs.' The WIPO advises that TCEs 'protection is related to the promotion of creativity, enhanced cultural diversity and the preservation of cultural heritage.' The WIPO continues to determine how the international intellectual property system could address and redress misappropriation of TCEs. Some countries have established laws and many are establishing laws to maintain and protect indigenous and local communities' TCEs. Whether there are national laws to protect TCEs or not, the point is that any use of TCEs for individual or organisational's benefit without acknowledgement and permission (which may involve benefit sharing, compensation, or others) from that TCE's holding community is equivalent to theft, which is both immoral and unethical. At the same time, it is the state's responsibility to provide legal safeguards to protect indigenous and local communities' TCEs from misappropriation.
Understanding the history and cultural significance of TCEs, in this case the ben tradition, can both increase knowledge of the tradition and potentially reduce its misappropriation.
Ben's artistic expressions are not only limited to its patterns or motifs, dresses or other products, or in the setting up to weaving processes, but are integrated into literature, songs, everyday life and spiritual practices. The word ben is alluded to in ancient Mahayana Buddhist literature. Etymologically connected with the root 'ben' (বেন), a very early reference to the word 'benbi' (বেনবি) meaning 'a weaver' is found in a Caryapda poem (no. 25) by Tantipada, a Buddhist Mahayana teacher of the 9th century.
In the Chakma mythological tradition, Bikrampudi ma is recognised as the goddess of weaving, the divine artist of the ben. She is married to Biatra, the divine master of all arts. It is believed that when a weaver weaves patterns with concentration, Bikrampudi ma avails herself to teach her. Bikrampudi ma sits on weaver's shoulders causing the weaver to get sore shoulders, back and neck. This mythical story can give us a hint of how laborious ben weaving is. Manjulika Chakma and Niaz Zaman's 2010 book 'Strong Backs Magic Fingers: Traditions of Backstrap Weaving in Bangladesh' gives a glimpse of how strenuous a ben is to weave. This may also be the reason that there is no, or hardly any example of ben from outside the culture either as a hobby or a vocation. Ben is relatively marginalised in terms of production and economic return compared to the mass-produced frame loom imitations of indigenous motifs and textiles. Despite this economic disadvantage, ben is practiced not only to keep the skill alive but also to maintain cultural identity.
Ben's artistic and spiritual expressions have been celebrated from at least the Early Medieval period (approx. 1300-1600) of Chakma literature. The ben appears in the Radhamon-Dhanpudi Pala, a popular ballad from the Early Medieval period. It is more of a legendary love story of Senapati (General) Radhamon and Dhanpudi than a story of Radhamon's bravery. One part of the ballad, 'Saaprey-kul,' portrays Dhanpudi weaving a 'saajanyaa gaamchaa', literally meaning a 'dusk cloth', as attire for her husband Radhamon when he was conscripted to go to war. A 'saajanyaa gaamchaa' was believed to have life protecting power. It was made within a 12 hour period between sunrise to sunset, involving a process that begins from raw cotton and finishes as to a piece of cloth. Radhamon's return, after a long 12-year engagement in the war, was not simply the outcome of his skill and bravery but also Dhanpudi's dedicated wish-fulfilling work, the 'saajanyaa gaamcaa.' This ballad, in 50 sections and sub-sections, is traditionally sung by genkhuli (traditional bards) often taking over a period of seven days and seven nights.
Tanyabi, a baaromaachye genre of the Late Medieval period literature (approx.1600-1900), composed by Pandit Dharmadhan Chakma, describes Tanyabi weaving the paadi caabaang motif representsing 'the tree of life', regarded as the 'king of the patterns', from an 'aalaam'. An aalaam is like a pattern book, a treasure with a large collection of weave designs from the ben tradition. Each pattern, called a 'phul' (flower), has a name, and many have stories with multiple meanings expressing experiences of traditional life and traditional views of the universe. The patterns include flowers, leaves, trees, animals, insects, birds, fish, shells, everyday used objects, ornaments, as well as spiritual objects like kalpataru, the wish-fulfilling tree.
The first international exposure of an aalaam was possibly in the 1883 Calcutta International Exhibition. It was woven by a benbi, the master weaver Doyamoyee Dewan, who received an award for it. There is a popular rhyme 'Dhuruj dhuruj ben bunong, Karbari gharat bou parang', meaning 'By weaving a ben in a dhuruj dhuruj rhythm, I will become the bride in the house of Karbari' (the Karbari is the chief of a village). However for Doyamoyee the rhyme failed. In 1885, two years after her aalaam's international recognition, Doyamoyee married the king, Raja Bhuban Mohan Roy. His younger brother Kumar Ramani Mohan Roy married a benbi, Shoroshi Bala Dewan whose aalaam with 115 patterns is now a valued part of the collection in a Rangamati cultural institute. Some of the other award winning benbi of the 20th and 21st century are Panchalata Khisa, Basanti Dewan, Sarat Mala Chakma, Manjulika Chakma (Panchalata Khisa's daughter). Rajkumari Chandra Kalindi Roy, the former chair of the Secretariat of the UN Permanent Forum on Indigenous Issues, wove a spectacular aalaam in 1971. She is the eldest daughter of Rani Aroti Roy, who was awarded for her aalaam in 1951. The ben tradition, however, is stronger in village households, and benbis in villages are unsung heroes.
The ben plays an important role in spiritual practices, including in the Buddhist festival called 'kathin chibar daan,' literally meaning the 'donation of difficult robes.' It is held every year at the Raj Bana Bihar of Rangamati town during the full moon day in the month of Kartik. In this festival, within a twenty-four hour period at least twelve monks' robes are woven from raw jum cotton. The yarn is spun from the cotton, dyed, starched, dried, loomed, woven, cut and stitched into complete robes, which are then donated to the monks. According to legendary accounts, it is a tradition that is thousands year old, founded by Bishakha, a devotee, who, with her friends, is known to have had donated robes to the Buddha and the communion of monks in the same manner.
Developed over generations creative minds and skills building traditional knowledge, and maintained with its manifold 'traditional cultural expressions' ben is a legacy that deserve respect and protection. Recommendations to eliminate misappropriation of traditional culture advocated in Tanisha Chakma's article are a good start. While the article calls for the prevention of theft of indigenous culture without consent or permission, it also provides general moral and ethical guidelines about how designers and consumers can use them responsibly: It calls on designers to use indigenous design with due acknowledgement, and thereby educate others about that particular indigenous culture. It encourages consumers to wear indigenous clothes with intention and respect, to buy them from indigenous weavers to support them directly and inspires consumers to learn and recognise indigenous cultural designs. Importantly it calls on people to speak up against any instances of cultural appropriation.
Bangladesh enacted the Geographical Indication (registration and protection) Act 2013 to protect traditional cultural products and knowledge in consonance with the Trade Related Aspects of Intellectual Property Rights. The Geographical Indication sign is used to denote a product that have a specific geographical region and possesses qualities or a reputation that are due to that origin. GI is subjected to both national and international laws. The term of GI under the GI Act of 2013 is five years, and subject to renewal. Jamdani was the first product in Bangladesh to have GI registration in 2016. This registration is a remarkable achievement for Bangladesh, because it not only provides protection but also helps maintain quality and develop competitive trade nationally and internationally to assist economic development.
GI protection is for those cultural products which are intended for trade. GI registration may therefore not fit in protecting many TCEs which are not for trade. Bangladesh government's work to legally and effectively protect indigenous and local communities TCEs stalled with the draft Biodiversity and Community Knowledge Protection Act, 1998. Its Article 7 (Prior and Informed Consent) addresses an internationally established principle 'Free, Prior and Informed Consent' which is protected by international human rights standards. FPIC is a component of the UN Draft Declaration on the Rights of Indigenous Peoples, and good practice for local communities. The principle requires any public or private enterprises to seek 'Free, Prior and Informed Consent' of concerned indigenous and local communities to use any of their traditional culture or traditional knowledge. FPIC is integrated in the 1992 UN Convention on Biological Diversity, which Bangladesh has ratified in 1994.
To protect the culture of vulnerable indigenous communities is a moral and legal responsibility of the state that is enshrined in the Bangladesh constitution (Article 23A), and in a number of international laws that are ratified by Bangladesh. Protecting TCEs of indigenous and local communities is not only for prevention from misappropriation, but for development of the country by empowering its vulnerable communities and thereby working toward meaningful progress of the country.
The government's work in the 1990s and 2000s restoring rights for historically disadvantaged indigenous peoples of the country included good will messages to indigenous leaders from prime minister Sheikh Hasina and others on the International Day of the World's Indigenous Peoples. The government's ratification of the UN Convention on Biological Diversity obligated it to provide protection for indigenous knowledge and back the principle of FPIC. In 1997 it signed the Chittagong Hill Tracts Accord. The Awami League's 2008 election manifesto committed to safeguard the rights and dignity of indigenous peoples.
Undoing this good work, since 2010 bureaucrats circulated secret directives to forbid the use of the word 'indigenous' despite its use in national laws. It coined new derogatory words for indigenous peoples, such as belittling 'khudra nrigoshti' (small ethnic groups), 'small races' and continued use of demeaning words like 'upajati' (meaning 'sub-nation' to mean 'tribal') in the 2013 amended constitution. Over two decades on, it failed to implement the major provisions of the 1997 Chittagong Hill Tracts Accord, including withdrawal of the military from the CHT and functioning of the CHT Land Commission to settle indigenous land dispute. These are grave institutional injustices perpetrated on the country's indigenous peoples. Without a paradigm shift in the ongoing atmosphere of the politics of oppression, exclusion and marginalisation of indigenous peoples, legal protection of their TCEs in Bangladesh appears to be a far cry.
Kabita Chakma is an architect and an independent researcher writing in three languages English, Bangla, and Chakma.
Want stories like this in your inbox?
Sign up to exclusive daily email
More Stories from 17th Anniversary Special