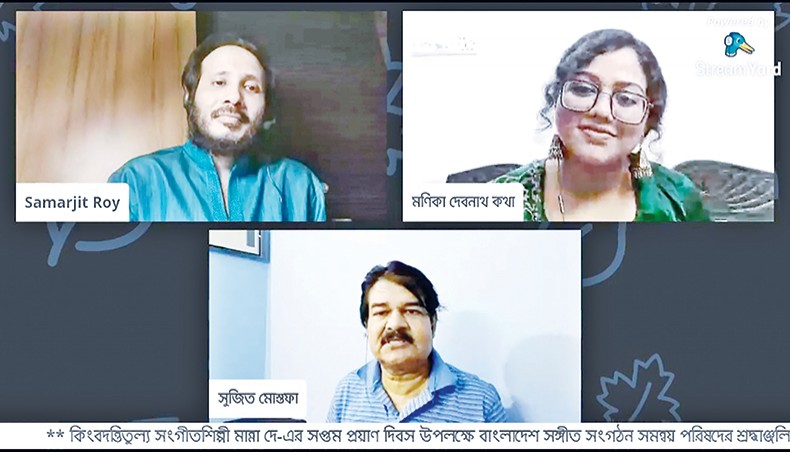 Singers paid tribute to the late acclaimed playback singer, music director and classical vocalist Prabodh Chandra Dey, popularly known as Manna Dey, in an online programme held on Saturday.
Bangladesh Sangeet Sangathan Samannay Parishad organised the programme titled Jadi Kagaje Lekha Naam marking the 7th anniversary of death of Manna Dey.
The programme featured songs of Manna Dey and a discussion on his life and work. It was streamed live on the Facebook page of BSSSP at 7:30 pm.
Singers Samarjit Roy and Monika Debnath Kotha rendered songs at the programme, which was hosted by Sujit Mustafa.
Samarjit Roy commenced the programme rendering the song Jadi kagaje lekha naam. He also sang Ami jamini tumi shashi he, E-to raag noy go and Khub jante ichchhe kore.
Monika Debnath Kotha sang Lalita go oke aaj, Jago natun prabhat, Ke tumi tandraharini and Ami aaj akasher mato ekela.
Sujit Mustafa sang Chander asay nibhaye chhilam, Rangini kato mor mon dite, Coffee houser sei addata aaj aar nei and Eki apurba prem dile.
Manna Day was born on May 1, 1919 in Kolkata in a Bengali family to Mahamaya and Purna Chandra Dey.
He received his early education from a pre-primary school and later went to Scottish Church Collegiate School and Scottish Church College. He completed his graduation from Vidyasagar College.
Manna Dey started his career as a singer in 1942. He started working with his uncle as an assistant music director and then worked as a music director of Hindi playback songs.
During his long career, Manna Dey has recorded more than 4,000 songs. He received several awards, including Padma Shri, Padma Bhushan, Padma Vibhusan and others.
He died of cardiac arrest on October 24, 2013 aged 94 at Narayana Hrudayalaya hospitals in Bengaluru.
Want stories like this in your inbox?
Sign up to exclusive daily email