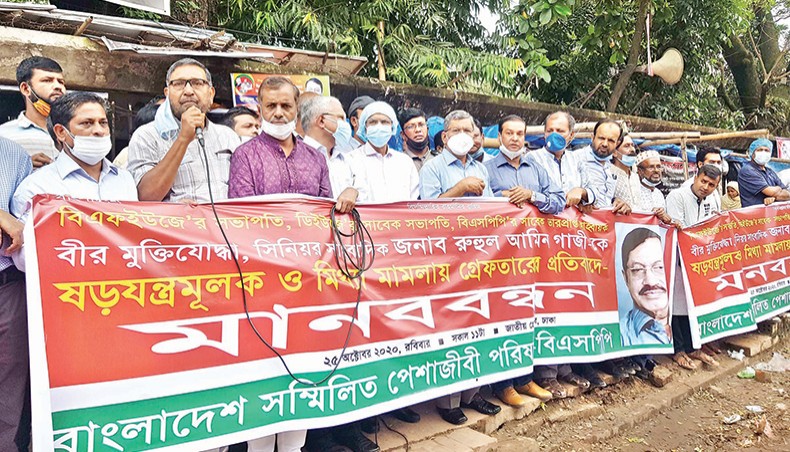 Opposition Bangladesh Nationalist Party secretary general Mirza Fakhrul Islam Alamgir on Sunday said that the Awami League government was not allowing a difference of opinion of the people.
They want to stop the voices of the people, who differ with them, Fakhrul said.
As a result, the government took steps against politicians, journalists, and the people, who expressed a difference of opinion, Fakhrul said.
Fakhrul made the comments in a human chain programme, organised by Sammillita Peshajibi Parishad demanding an immediate release of the acting president of the parishad, Ruhul Amin Gazi, also the chief reporter of Bangla daily Dainik Sangram.
Gazi was arrested without any valid cause, Fakhrul alleged.
Many journalists were facing repression during the regime of Awami League and some were killed but did not get justice, Fakhrul said.
He accused the government of introducing a reign of terror in the country, leaving the journalists afraid of speaking truth.
Awami League never believed in democracy and is now going to introduce the rule of a single person.
Speaking at the human chain, Fakhrul called on the government to step down immediately and give a free and fair general election under a neutral government.
He urged the people of the country to be vocal against the failures and misrules of the government.
Otherwise, democratic rule and a government of the people would not be restored and the spirit of the war of independence of 1971, the achievement of movement for democracy in 1990, would be destroyed, Fakhrul said.
He called on all the opposition political parties to be united to launch a movement against the government.
Chaired by journalist leader Shaukat Mahmood, former secretary general of Doctors Association of Bangladesh AZM Zahid Hossain, journalist leaders Abu Saleh, M Abdullah, Kader Goni Chowdhury, agriculturist Abdul Karim, engineer Sakhkhwat Hossain spoke, among, others at the rally.
Gazi, the president of a faction of Bangladesh Federal Union of Journalists, was arrested on Wednesday in connection with a sedition case filed in 2019.
Want stories like this in your inbox?
Sign up to exclusive daily email
More Stories from Politics