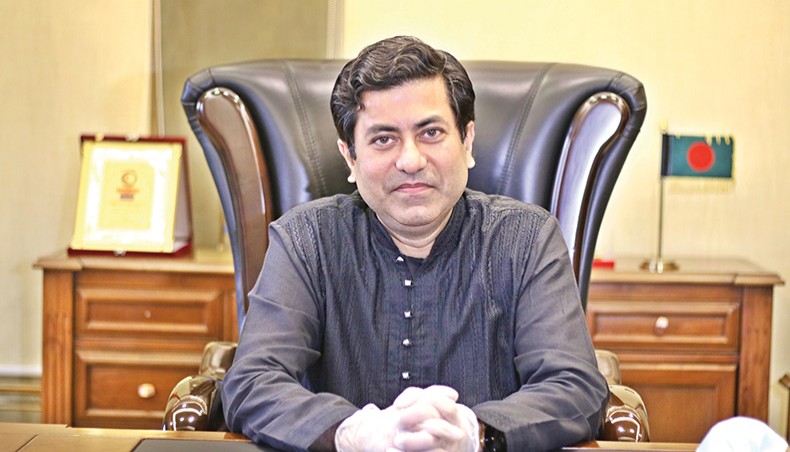 Dhaka South city mayor Sheikh Fazle Noor Taposh unveiled a plan to change the capital's skyline on the banks of two major rivers — Buriganga and Shitalakkha — constructing high-rise buildings serving as new business hubs.
'We're in the process of reclaiming lands on the riverbanks which had been grabbed by either influential individuals or state organisations and we will use those lands for building a central business district,' said the mayor.
In an exclusive interview with New Age at Nagarbhaban on Wednesday Taposh said that the South Dhaka is blessed with the two ancient rivers but he lamented the fact that influential individuals grabbed river-lands badly affecting the city's lifeline and, on top of that, when development plans are drawn up, these rivers never became a focal point.
The former lawmaker Taposh said that as part of the plan to make the rivers central to the city's lifeline, Dhaka South City Corporation initiated a project on the bank of the Buriganga to build a 75-storey Central Business District named after prime minister Sheikh Hasina.
Taposh, the second elected mayor of the divided capital city, said that for the first time the DSCC has started to prepare a master plan in cooperation with architects, urban planners and others, so that people would not suffer due to unplanned development any more.
Comprising all master plans of the agencies — including Dhaka WASA and RAJUK — the DSCC was making an integrated master plan for Dhaka, he said.
Dhaka has more than 2.1 crore people, including 1.2 crore in DSCC's 109.25skm area, living in it, making it the 11th largest city in the world which had grown mostly through informal and unplanned development.
Dhaka, one of the oldest cities in South Asia, developed on the bank of two rivers — Buriganga and Shitalakkha — and with over 50 canals crisscrossing the capital city, it has the advantage of natural drainage and healthy environment.
'Dhaka has been a naturally beautiful city and I want to restore it to its past glory,' the lawyer-turned-politician said.
One of the most densely populated city in the world, Dhaka, in different international reports, has been presented as one of the most unliveable cities due to traffic jam, pollution, waterlogging, inadequate civic services, rundown roads and many other unattended civic issues.
Mayor said that he was working towards a practical solution to all the problems.
In the first 90 days, Fazle Noor Taposh has addressed fundamental issues including transparency in corporation, waste collection and street lighting and others, he said.
He also said that bus route rationalisation and works to solve the waterlogging crisis were in progress while road repairing and development continued as road maintenance was an ongoing process.
Taposh said that he was planning to restrict non-motorised vehicles on some roads as he feels that a number of roads should only be for pedestrians while there would be roads for mixed use to achieve highest efficiency.
He said that under the master plan he want to build an adequate number of parking facilities and also wants to rehabilitate hawkers after evicting them from the roads they now occupy for smooth traffic flow.
Hawkers on footpaths are a long pending issue in the city and they keep returning to the same places even after several eviction drives.
Taposh took the chair amid the on-going COVID-19 outbreak when the city was still under the coronavirus lockdown.
In the last two years, dengue and Chikungunya outbreak killed many people and made thousands suffer but due to an emergency effort this year, the situation was under control, he claimed.
'There were allegations that below quality insecticide was purchased and there were irregularities in the mosquito control. I have reshuffled the department and anti-mosquito drive now continues by rotation,' he said.
He said that DSCC was adopting integrated vector management policy for sustainable mosquito control in the city.
He said that all the civic problems had been lingering for decades and they gradually deepened as no one initiated any steps to solve them.
He said that overhead cable made Dhaka ugly, dotted waste on roads and public spaces made city dirty, unauthorised rickshaw created traffic jam, there were initiatives to control the dog population, now swelling, besides there were waterlogging, public transport crisis, which contributed to the downgrading of the city.
He said that as a mayor he started solving all the problems and thus he was appreciated and sometimes even criticised for his initiatives.
'I always stick to the best solution to a crisis,' he said.
Over 100 types of services were provided from the DSCC, but due to corruption, people don't get the services, the mator said, adding that after taking charge he started taking actions against corruption.
Two high officials were terminated and over 60 officials were transferred as part of the administrative reshuffle.
Taposh said that he was working to improve waste management system so that city people could get a waste-free Dhaka in the morning every day.
The DSCC leased out primary waste collection to a single company which would collect waste from houses between 6:00pm and 10:00pm and city garbage trucks would shift the waste to dumping yards by night so that people could enjoy a clean Dhaka throughout the day.
When he was reminded of the immediate past mayor of the city who set a Guinness World Record on city cleaning while the city practically remained as ugly as usual due to dotted solid wastes, Fazle Noor Taposh said that he did not have any intention to set any record, he was only focused on ensuring services.
Waterlogging still remains a major crisis in the city.
There were once over 50 canals, of which 26 were still flowing across Dhaka's planned and unplanned areas while only 11 of them are under DSCC area, but, accept the Dhanmondi Lake, no canals were under the DSCC's control. The new mayor wanted to change that.
Canal management was Dhaka WASA's responsibility, and the agency completely failed in its task, so we want to move in and take control of the canals as this is essential in solving the problem of waterlogging.
'The DSCC has already drawn up a project to improve Jirani, Manda, TaltolaJheel and Dholaikhal canals,' he said.
Taposh said that the law dictated that the city corporation was the custodian of all water bodies, but other agencies interfered in mayor's duty and did development work in an unplanned manner.
He said that the Adi Buriganga channel near Kamrangirchar would be reclaimed soon and river grabbers would be evicted including the government agencies.
'I will create the opportunity for city people to enjoy heritage sites from the river,' he said.
Taposh said that the corporation did not need any legal reformation before it began to evict grabbers from lands along the canals and rivers as local government (City Corporation) act was enough for him to carry out such drives.
He said that no agencies would be allowed to carry out unplanned activities, including road cutting, haphazardly from now on.
He said that the DSCC asked applications for road cutting from agencies by October 31. If any agencies failed to apply for that it would not be allowed to implement the project this year.
Mayor said that once DSCC earned revenue only from eight sectors but there were over hundred sectors to earn revenue from
'We have selected 29 revenue collecting sectors in the meantime,' he said.
Want stories like this in your inbox?
Sign up to exclusive daily email
More Stories from Interview