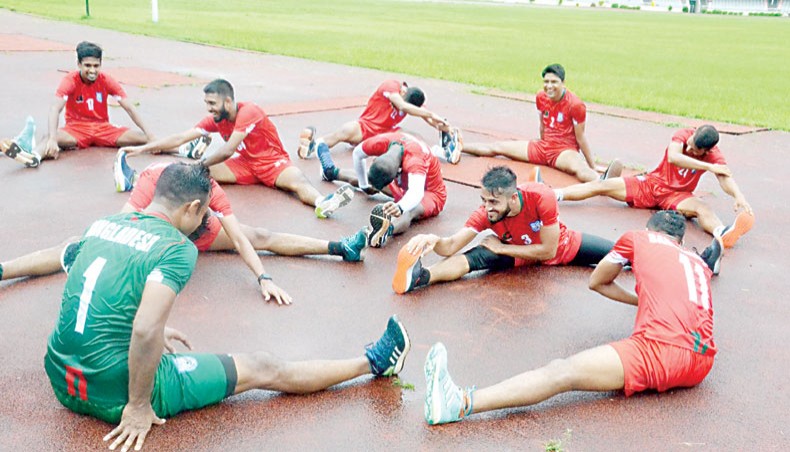 Bangladesh national team footballers returned to Bangabandhu National Stadium on Saturday after almost a seven-month break to train ahead of their two international friendlies against Nepal scheduled to be held at the same venue on November 13 and 17.
A total of 14 players out of the 36 primary squad members joined the training and they will continue their practice under local coaches — Masud Parvez Kaisar, Sayed Golam Jilani and Mostafa Anwar Parvez —before their English coach Jamie Day returns to Dhaka on October 29.
Bangladesh national team physiotherapist Fuad Hasan Hawladar informed that all 14 players' fitness was up to the mark.
'They fulfilled the primary target. On an average all were up to the mark in cooper test, which included their heartbeat rates, stamina and speed,' said Fuad after the training.
Sheikh Russell Krira Chakra forward Mohammad Abdullah and Chattogram Abahani midfielder Rakib Hossain, who joined the camp on Saturday, could not take part in the training due to tiredness after travelling from their respective destinations.
Midfielder Mamunul Islam, defender Tutul Hossain Badsha, goalkeeper Sahidul Alam and 11 players of Bashundhara Kings are scheduled to join the camp on October 27.
Kings denied releasing two of their players — Masuk Mia Jony and forward Matin Miah — as they recently recovered from injuries while their Finish-born defender Tariq Raihan Kazi is scheduled to arrive in Dhaka on October 28.
Bangladesh's Denmark-born captain Jamal Bhuiyan is expected to join the camp a day later.
Saif Sporting Club defender Rahmat Mia said that the players did not train too hard on the opening day as they are returning to the field after a long break.
'The most challenging thing for us right now is to stay fit and avoid coronavirus…I think among us the ones who practiced individually during the break will face less challenges,' Rahmat told the reporters.
'If anyone suffers an injury, like muscle cramp, he would have no chance to recover before the friendlies. So, we did light practice today [Saturday] as it is our first day after a long break,' he added.
Abahani Limited forward Saad Uddin said he was just focusing on the two matches against Nepal.
'I have only one target and that is to perform well in the upcoming matches.'
The BNS last held a match on March 15 of the now null and void 12th edition of the Bangladesh Premier League while the national team last played a match here in January against Burundi in the semi-final of the Bangabandhu Gold Cup.
Want stories like this in your inbox?
Sign up to exclusive daily email
More Stories from Football