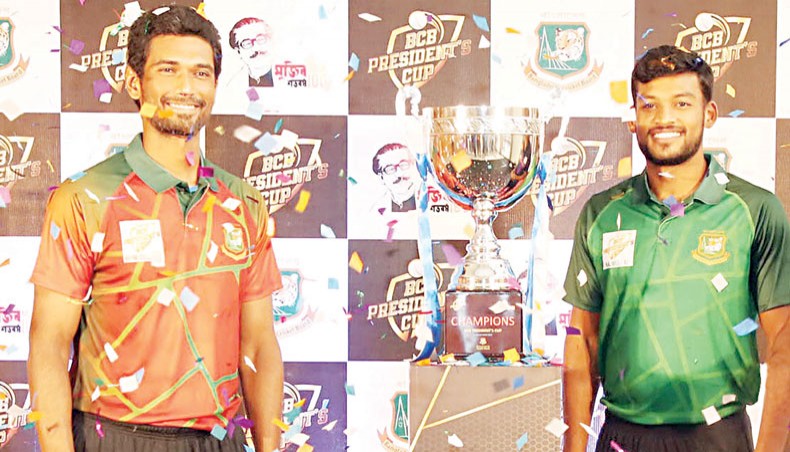 Nazmul XI will lock horns with Mahmudullah XI in the final of the BCB President's Cup triangular one-day tournament, the first competitive cricket competition in Bangladesh in the post-pandemic era.
The final, which was supposed to take place on October 23, was deferred due to rainy weather and will be staged today, with Monday being kept as the reserve day.
Nazmul XI reached the final as table-toppers, winning three out of their four matches, while second placed Mahmudullah XI won two and lost two to edge out the third team in the triangular tournament, Tamim XI, from the final.
Nazmul XI will be heavily depending on their veteran wicketkeeper batsman Mushfiqur Rahim, who is currently topping the scorers list with 207 runs in four matches, to come good on the final too.
Mahmudullah XI, on the other hand, will look to their star pacer Rubel Hossain, who is the second highest wicket-taker in the tournament with 10 wickets, two less than Tamim XI all-rounder Mohammad Saifuddin, to counter Mushfiq.
'I have played many matches with Mushfiq bhai. I know he is one of the best batsmen in Bangladesh. We have a plan for him and we will try to execute the plan and bowl accordingly,' Rubel told the media on the eve of the final.
Pacer Taskin Ahmed, who has snapped seven wickets in the tournament so far, is another key player for Nazmul XI and he told the reporters ahead of the final that his team-mates are hopeful about clinching the trophy.
'Our aim is to become champions. We have won three matches out of four in the league stage. Everyone is putting their efforts and trying hard to give their best. We will try to win the final and become the champion,' said the pacer.
Nazmul XI dominated Mahmudullah XI in the group-stages, beating them in both of their encounters, but Mahmudullah was confident that his team will turn it around in the final.
'Fortunately we have reached the final. Each and every cricketer took the tournament very seriously and the competitiveness is high. We all are eager to play good cricket in the final,' Mahmudullah said.
Although the tournament does not hold an official List-A status, Bangladesh Cricket Board has declared big incentives and cash prizes for the winners and top performers.
The winning side will receive Tk 15,00,000 and the runners-up team will receive Tk 7,50,000 while the man of the final will be handed Tk 1,00,000.
The best batsman, bowler and fielder will also receive Tk 100,000 each respectively.
Want stories like this in your inbox?
Sign up to exclusive daily email
More Stories from Cricket