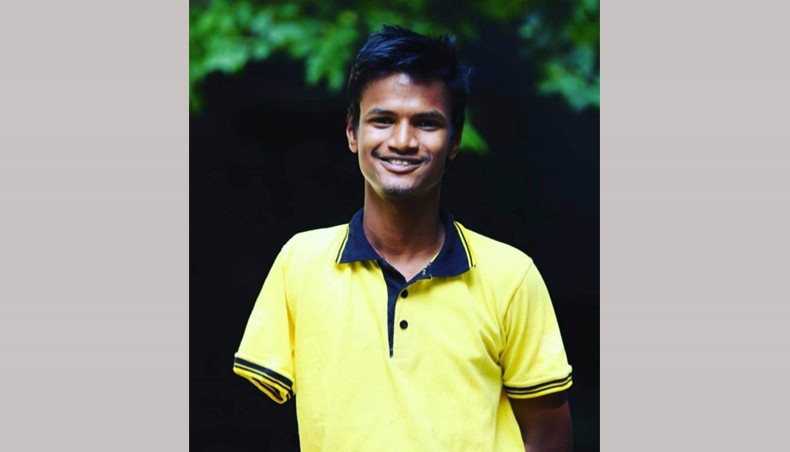 Alamgir Kabir is a 20-year-old child rights activist. He is currently the advisor and child researcher of the Ghashful Shishu Forum and a youth ambassador of the World Vision Bangladesh. Recently, Alamgir has been awarded the National Leadership Award and the Hidden Hero Awards for his outstanding contribution towards the wellbeing of children in vulnerable situations during the COVID-19 pandemic. Besides, he has attended many national and international conferences and seminars on child rights. During an interview with Afnan Rahman for the New Age Youth, Alamgir Kabir shared his story of struggles, child rights initiatives, and achievements.
New Age Youth: What is the story behind your journey towards a child rights activist?
Alamgir Kabir: I was born in Sherpur. For work purposes, my family had to shift constantly from one place to another. We could never live in a place for a long time. So I lost my childhood because of the uncertain circumstances I grew up in.
When I was in class six, my father, an air conditioner installer back then, accidentally fell off from a building while working on a high-rise building and got severely injured. In consequence, the responsibility of earning money came upon my shoulders and I had to skip a couple of academic years to support my family.
I used to work regularly as a paperboy until class eight. One of my greatest delights is to meet and make connections with new people. From a very young age, I always aspired to help others. So during that stage of my childhood, I came across some incredible persons who helped me to get associated with various organisations for life skill training and development.
For instance, I got involve with the Centre for Services and Information on Disability, Plan International Bangladesh and various welfare organisations. Gradually, I came in touch with Ghashful Shishu Forum and worked as an active child leader to secure child rights.
The training which I received from World Vision Bangladesh, a partner organisation of Ghashful Shishu Forum, framed my desire to work for the welfare of children in distress. In my journey as a child rights activist, I never let go of any opportunity and have always taken a stand whenever necessary.
New Age Youth: Was there any particular incident that inspired you in becoming who you are now?
Alamgir Kabir: Most parts of my childhood went away in switching between different places and financially supporting my family. So I never really had a 'childhood'. That's why I wished that no other child should go through such suffering. Every child deserves to grow up having a joyous and playful childhood that can be cherished forever. Hence, I fixed upon becoming a child rights activist.
New Age Youth: In the context of social stereotypes, how did you address your physical and mental challenges in life?
Alamgir Kabir: Playing cricket has always been my dream. I was very good at it and often scored great runs. Nevertheless, I used to get bothered when people kept reminding me that I only have one arm. I had to put up with comments like, 'Wow! With just one arm he plays such great shots'. Although that came as a compliment, I felt it also conveyed a double meaning. Those words sounded as if it is unlikely for people with physical deformity to take part in sports or any regular activity.
During my younger days, all these used to frustrate me. Such kind of remarks from people made me feel outcaste. I never wanted such sort of sympathy because, at the end of the day, I am a human being like everyone else who thrives to utilise my utmost ability to create the greatest positive impact.
These days, however, I do not get affected by such comments because I love myself for who I am today.
New Age Youth: Tell us about Ghashful Shishu Forum and your role in particular with the organisation.
Alamgir Kabir: Ghashful Shishu Forum is a child-led organisation that aims to ensure child rights in our country. It offers children a platform to give a lead in spreading awareness regarding education, health care, and security of children and executing prevention initiatives on the issues of child labor, child abuse, and child marriage. Not to mention, the senior executives of the organisation provides effective leadership and capacity building training to the children.
My journey with Ghashful Shishu Forum started when I was in class four. As a child leader, I was successfully able to ensure a 100 per cent prevention of child marriage in my area by spreading awareness of its severe impact. So, for my impactful contribution to securing child rights, I became one of the top child leaders.
In 2019, I got appointed as an advisor and child researcher. Since I am not a child now, I provide guidance, as a mentor, to the current child leaders of the organisation to execute their plans. Under my lead, I, along with my young members, have terminated 17 child marriages and conducted various programs to end violence against children.
New Age Youth: Since you are also a child researcher at the Ghashful Shishu Forum, could you give us some insights about your research activities?
Alamgir Kabir: As we all know that the COVID-19 pandemic has affected all spheres of life. Of all, children are one of the greatest subjects to vulnerabilities. With the schools being shut down, the children's overall growth process is greatly impeded. The quarantine situation is greatly colliding with their mental health condition. Realising this consequence at the very beginning of the cituation, I started to research on children and how they are being affected during this global crisis.
From the social media page of Ghashful Shishu Forum, I have been hosting and organising an online webinar where I call upon various national and international policymakers, child experts, and child leaders. The perspectives of these experts serve my purpose as a primary research method. Their outlook will give me a base for my research outcome.
My research finding will demonstrate the impact of a global crisis, like the COVID-19 pandemic, over the children and effective solutions to cope up with the upcoming global crisis to save our children. On completion of my research, I will send my research document to the government and various national/international welfare organisations.
New Age Youth: What were the initiatives you were involved in to help the children at risk during the COVID-19 pandemic?
Alamgir Kabir: My research on the impact of the pandemic on children has been my primary focus. Apart from that, the members of the Ghashful Shishu Forum created video contents with awareness messages regarding coronavirus which had good reach. Besides, Ghashful Shishu Forum collaborated with 'Team Bonna' to help the flood-affected victims.
New Age Youth: How hopeful are you about the current condition of meeting child rights, based on the Sustainable Development Goals?
Alamgir Kabir: The escalating rate of child violence and child sexual abuse is alarming which puts me in serious concern. We are yet to set the benchmark of education equity. Despite this negativity, I am hopeful because many young change-makers are coming forward and raising their voice against the injustices against children. Moreover, I see a lot of youth-led welfare organisation which works for improving the condition of children in desolation.
New Age Youth: Where do you see yourself in the next 10 years?
Alamgir Kabir: I thrive to learn about the inspiring stories of different people and bring them to light. Discovering new aspects is my passion. So, in the next the few years, I see myself as a journalist who will connect with various concerns and demonstrate them to the world.
Afnan Rahman is a student of North South University.
Want stories like this in your inbox?
Sign up to exclusive daily email