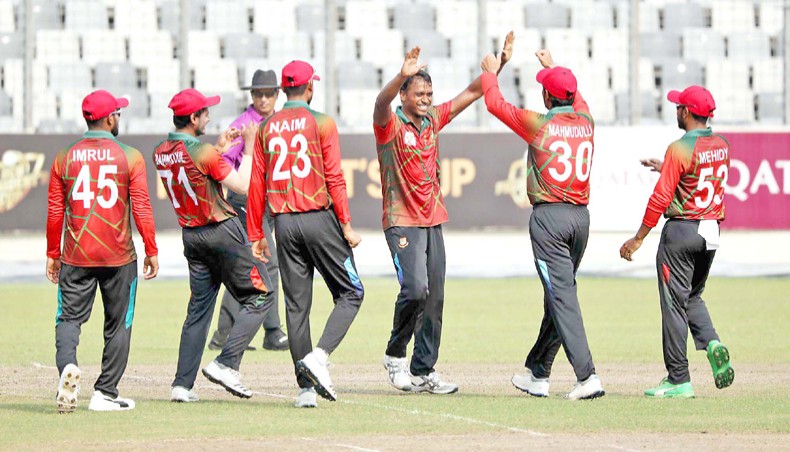 Living inside a bio-bubble is weighing on the minds of Bangladesh cricketers with concerns growing about the long term impact of keeping the players in a confined area for extended periods.
Around fifty top cricketers of the country, who are taking part in the BCB President's Cup, have been living inside a bio-bubble for over two weeks.
The players are not allowed to leave their hotels, are escorted to and from the venue for matches and practice and aren't allowed to come into contact with anyone outside the bubble.
Many of those players were also in a bio-bubble during the skill training camp of the national team and even more players will enter the bubble before the start of the next month's Corporate Twenty20 League.
Bangladesh team head coach Russell Domingo was worried about the psychological toll on players who are staying inside a bubble for weeks and said that a number of players had already told him that they were finding it difficult to live under such strict restrictions.
'The players have been in the bio-bubble for three weeks and one or two have told me that it is tough. These are challenges that we do face,' Domingo said.
'In our particular bio-bubble, guys are not allowed to go out. You just have to be within the confines of your hotel all the time. It can become challenging. But it is definitely something we need to monitor and see how it goes. I don't know how long you can do it,' he added.
Bangladeshi cricketers are not the only ones who are experiencing the affects of living in a bio-bubble, with England white-ball skipper Eoin Morgan, who is currently playing in the Indian Premier League in the UAE, recently telling the media that players will soon burnout mentally and physically if they have to continue playing like this.
Australia opener David Warner, who is also playing in the IPL, has already hinted that he might skip his own country's franchise tournament, Big Bash League, to stay with his family after having to live without them for months.
Domingo is also worried if his charges could continue living like this next year, where they have a packed international schedule with hardly any breathing space.
'With all the cricket next year with only one month of break, I don't know how possible it is to have a continuous bubble. I am not a psychologist. I don't know how guys' minds are thinking and dealing with it. I am open with them to discussing how they feel and try to help them if I possibly can,' said the South African.
'We need to find ways of making sure that the players are comfortable about how they are feeling. If there's support we need to give players, in terms of allowing some guys maybe some time away, we have to be able to do that,' he added.
Mahmudullah, the captain of Mahmudullah XI in the BCB President's Cup, accepted their current living setup as he felt it was the 'need of the hour'.
'I think BCB took the decision because they are really concerned about the cricketers... It is a different experience but it is the need of the hour and to take part in upcoming cricket campaigns we have to stay inside the bubble and maintain the protocols,' said the Tigers Twenty20 captain.
Pacer Abu Jayed told New Age that players are playing indoor games and watching movies, sports etc to cope with the boredom.
'We have indoor games like table-tennis, carom board to keep ourselves busy when there is no training or match. Sometimes we play FIFA on playstation. We also watch movies on the laptop or watch live sports like IPL or football.'
Want stories like this in your inbox?
Sign up to exclusive daily email
More Stories from Cricket