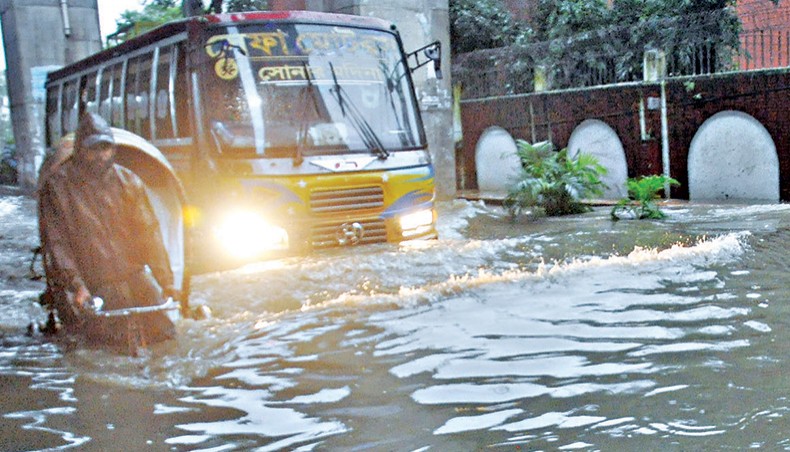 Heavy rain and squalls caused by a depression that moved inland around Friday noon hampered normal life across the country, disrupting road and river communications.
The coastal rivers, including the Kirtonkhola, crossed their danger limits following heavy rain since Wednesday afternoon, inundating vast low-lying areas including crop fields in Barishal region.
Thousands of people suffered as squalls hampered ferry service across the Padma at Paturia in Manikganj and forced Bangladesh Inland Water Transport Authority to either suspend or restrict operations at seven river ports on Friday morning.
Authorities opened 15 shelter centres in Chattogram after asking people to evacuate because of potential landslide as heavy rain continued in the port city since Wednesday night.
'The inclement weather is likely to continue to cause trouble today,' meteorologist Abdul Mannan told New Age.
The depression was centred over Bangladesh on Friday afternoon as it moved north-eastward after making landfall along the coast between West Bengal and Bangladesh's Khepupara, he said.
'The depression is slowly losing its strength, but it will not clear before tomorrow,' said Mannan.
Bangladesh Meteorological Department in a warning said that heavy to very heavy rain may occur at places of all eight divisions until 10:00 am, Sunday.
The country's highest rainfall of 254mm in 24 hours until 6:00am on Friday was recorded at Khepupara, Barishal.
Over 200mm of rainfall in the last 24 hours until 9:00am on Friday was also recorded at Barishal and Barguna. Over 100mm rainfall was recorded at many places of Chattogram, Cox's Bazar, Bandarban and Chandpur during the same time.
In Dhaka, it rained 37mm in the 12 hours until 6:00pm on Friday.
New Age correspondent in Manikganj reported that about 800 vehicles were stranded in a tailback at Paturia ferry terminal as ferries took more time to cross the river Padma because of the inclement weather.
Police were forced to halt goods-laden trucks five kilometres ahead of the Paturia terminal to allow passenger-carrying vehicles to cross the river first.
The Shimulia-Kathalbari river crossing remained closed for nine days in a row until Friday because of poor navigability and vehicles diverted from there to Paturia compounded the overall situation.
Bangladesh Inland Water Transport Authority in a statement said that they decided to suspend or restrict operations at Dhaka, Narayanganj, Barishal, Mawa, Aricha, Bhola and Chandpur river ports because of the inclement weather.
They said that operations of vessels lower than 65 feet in height would remain suspended until further notice.
The river ports in the country were placed under signal number two while the four maritime ports were asked to show signal number three.
New Age correspondent in Munshiganj reported that thousands of people were stranded after small launch services were suspended on Shimulia-Kathalbari river route on Friday afternoon.
A group of passengers staged a protest at BIWTA office for suspending the services.
A fishing boat capsized near Kolikalerchar of Loujong, Munshiganj because of the inclement weather but the fishermen managed to swim ashore.
Meteorologists said that the depression caused tidal surges to rise five feet above its normal level at places along the coast, intensifying peoples' sufferings, especially in areas where there was no embankment to halt seawater intrusion.
New Age correspondent in Barishal reported that the Barishal city was completely inundated in water from Friday morning till afternoon because of heavy rain that had started on Wednesday afternoon.
Frequent power cuts also made the city dwellers' life miserable, he added.
Water Development Board's sub-station engineer in Barishal Abu Zafar said that Meghna, Kirtonkhola and Sugandha were flowing above their danger marks on Friday.
'My entire betel leaf garden was inundated. If the water did not recede immediately, I would lose all of it,' said Horen Baroi, a resident of Ujirpur.
Five people remained missing in Patuakhali after a boat capsized in the river Agunmukha on Thursday afternoon.
United News of Bangladesh reported that a college student, Rakibul Islam, 19, went missing while fishing in the river Padma on Friday morning in Bagha upazila of Rajshahi.
Department of Agricultural Extension's additional deputy director in Barguna SM Badrul Alam said that the low-lying areas in the district went under 2.5 to 3 feet deep water.
Farmers in the district were late in planting aman and were expecting less than usual production when the fresh spell of heavy rain came.
'If the water drains in three days it will not have any impact on aman,' said Badrul.
Flood Forecasting and Warning Centre daily bulletin showed that nearly half of the river gauging stations recorded swelling in the water level.
New Age correspondent in Chattogram reported that heavy rain inundated vast areas of the port city, including Badurtola, Kapasgola, Oxygen, Muradpur, Bohoddarhat, Nasirabad, Bayezid, Sholoshohor, Chawkbazar, Panchlaish, Chaktai, Halishahar, Agrabad, and CDA residential area on Friday.
The handling of goods at the outer anchorage remained suspended since Thursday night, she reported.
Patenga Met Office on Friday noon issued a landslide warning with the district administration asking people residing on hill slopes to move to safer places.
The district administration has identified 17 places where about 700 people are living in risky conditions on hill slopes.
Patenga Met Office warned that the heavy rain may continue for three days.
Want stories like this in your inbox?
Sign up to exclusive daily email
More Stories from Country