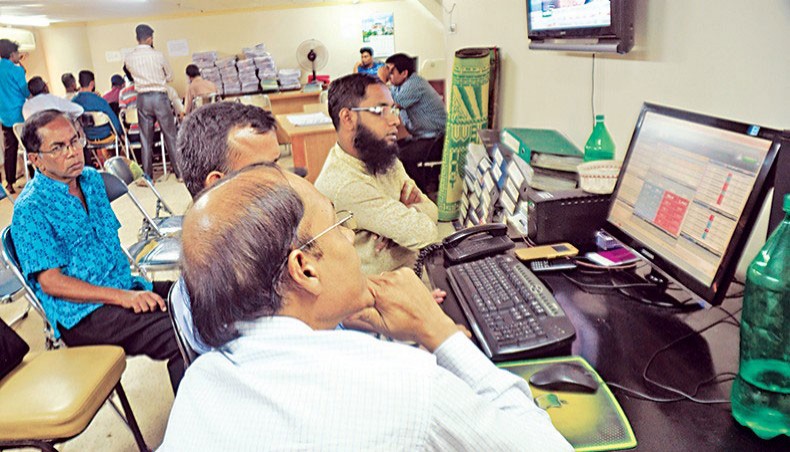 Dhaka stocks inched down for the second day on Thursday as others stocks witnessed sell-offs amid the investors' rush for buying shares of insurance companies.
DSEX, the key index of the Dhaka Stock Exchange, shed 2.81 points, or 0.05 per cent, to close at 4,914.03 points on the day after losing 0.4 points in the previous session.
The market started falling from the very beginning of Thursday's session, losing 18 points at one point of the day, but managed to finish the session with a slight loss as investors were active from both sides of the trading fence, market operators said.
They said that the insurance sector continued dominating the market with an increased participation of investors.
More and more investors are moving to the sector by selling off shares of companies of other sectors, they said.
The hype with the sector started from mid-September, raising share prices of most of the companies significantly that provoked investors to buy insurance shares for making huge gains in a short time, market operators said.
Out of 48 traded insurance companies, 37 advanced, nine declined and three remained unchanged.
The sector registered around 45 per cent of the day's total turnover on the DSE.
The market has been struggling to gain in recent weeks after a three-month upward trend as investors are grappling with the domination of only insurance sector on the market, approval of 10 companies' initial public offerings in just three months and a possible second wave of coronavirus outbreak in the country, market operators said.
A number of companies would declare dividends and financial disclosures soon and investors are also assessing the possible rate of earnings, they said.
The turnover on the DSE increased to Tk 1,029.03 crore on Thursday, the last trading session of the week, compared with that of Tk 855.25 crore in the previous trading session.
Shariah index DSES also lost 0.23 per cent, or 2.57 points, to settle at 1,114.17 points.
DSE blue-chip index DS30 dropped by 0.15 per cent, or 2.63 points, to close at 1,692.43 points on the day.
Of the 357 scrips traded on the DSE on Thursday, 106 advanced, 192 declined and 54 remained unchanged.
Global Insurance Company led the turnover chart with its shares worth Tk 37.28 crore changing hands on Thursday.
Republic Insurance Company, Paramount Textiles, Sandhani Life Insurance, Purabi General Insurance, Continental Insurance Company, Beximco Pharmaceuticals, Rupali Insurance, Pioneer Insurnace and Eastland Insurance were the other turnover leaders on the day.
Want stories like this in your inbox?
Sign up to exclusive daily email