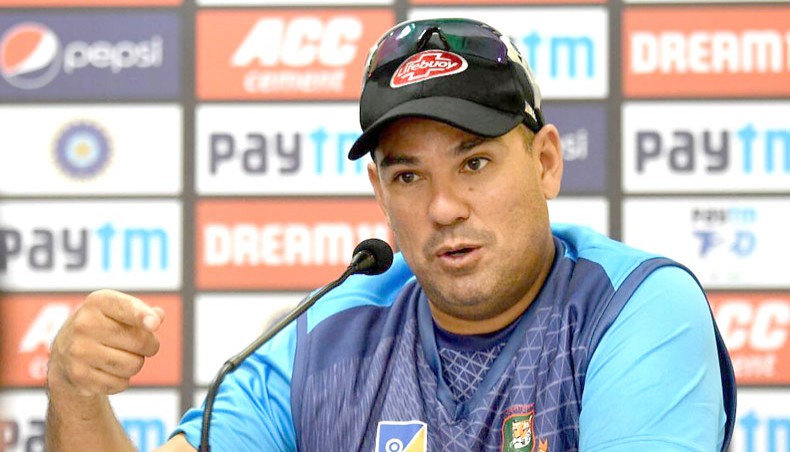 Bangladesh cricket team head coach Russell Domingo is not focusing too much on the players' performances in the BCB President's Cup, rather he is happy to see his charges return to the field after a long sabbatical.
A number of national team players have been under-fire in the media for their lacklustre performance in the group-stages of the triangular tournament.
But Domingo shielded his players from the criticism, saying that he is not at all concerned by some players' dismal performance and is glad to see them play after almost seven months.
'The main thing for me as a coach was to make sure the guys were getting some game time. The performances are not important, as far as I am concerned,' Domingo told the reporters in a virtual press conference on Thursday.
'I think it is very difficult to judge players on these games. We cannot judge players who have not played for seven months and are now coming to an inter-squad tournament that I see very much as a part of training,' he added.
Many marquee top-order batsmen, especially openers, have failed to perform up to the mark but Domingo batted for his pupils and asked the media to tone down its criticism.
'I think it is a bit unfair to say they are consistently failing. It was just six or seven months ago that we scored 340 against Zimbabwe in a one-day series. Liton [Das] got 180; Tamim [Iqbal] got two hundreds. So I think it is a bit unfair.
'I'd like the media to maybe support the players a little bit more and not harshly judge them on performances based on ten days of cricket, having not played for seven months,' the South African said.
Contrary to the batsmen, the pacers have dazzled throughout the tournament and Domingo praised them for maintaining their fitness during the barren period which has made a visible impact in their performances.
'I can't compliment the players enough for the work they have done in the last six or seven weeks. Look at the shape of Taskin [Ahmed] and how Rubel [Hossain] is going and Khaled [Ahmed] who came back from a big injury; the guys have really worked hard on their fitness levels,' said the head coach.
Domingo was particularly impressed by Taskin and praised him for his improved work ethic.
'The biggest thing Taskin has done is change his work ethic. He is working so much harder. He is in very good physical condition. He can bowl more than one or two spells. His comeback spells are also quick, so that's very pleasing for us,' he said.
The dismal performances of a number national team regulars have made some think that the Tigers were fortunate that the Sri Lanka series didn't pan out but Domingo disagreed.
'It would have been great to play the Test series in Sri Lanka because if we needed to play, we would have had good preparation leading into the Test match. I don't think it is a blessing that we haven't played. I'd have loved to be involved in that series.'
Want stories like this in your inbox?
Sign up to exclusive daily email
More Stories from Cricket