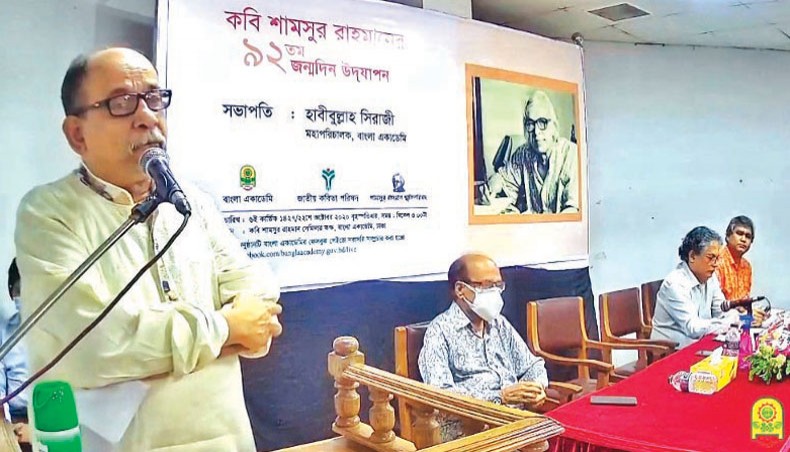 Today is the 91st anniversary of birth of the late eminent poet Shamsur Rahman.
Admirers and well-wishers paid tribute to the poet at a programme held at Poet Shamsur Rahman Seminar Room of Bangla Academy on Thursday.
The event, titled Kabi Shamsur Rahman Er 92 Tomo Janmadin Udjapan, was jointly organised by Bangla Academy, Jatiya Kabita Parishad and Shamsur Rahman Smriti Parishad.
The programme commenced with guests observing one minute silence in memory of Shamsur Rahman. Jatiya Kabita Parishad general secretary Tarik Sujat gave the welcome speech at the programme.
'Shamsur Rahman's poems give us strength during crises. His works also give us a glimpse into the history of the nation,' said Tarik Sujat.
'I am fortunate because my house is located two doors away from where Shamsur Rahman used to reside. His poems are related to Bangladesh and those that are based on the liberation war are multidimensional. He is considered one of the greatest poets of Bangla literature,' said Shamsuzzaman Khan.
'Shamsur Rahman's poems depict the transformation of our society. Language movement changed the poems of East Bengal and we can relate to his poems in the same context. Shamsur Rahman introduced a new kind of engaged authorship as he moved away from the idea of writing in total isolation. He opened up the cloistered space into the greater public arena,' said Habibullah Siraji.
Besides, poet Aslam Sani, Bangla Academy director Jalal Ahmed and poet Pias Mojid also spoke at the event.
Sanaul Haq Khan, Faruk Nawaz, Jharna Rahman, Khalek Bin Joinuddin, Tapan Baghchi, Lili Haq, Hanif Khan and others recited Shamsur Rahman's poem at the programe.
Shamsur Rahman was born on October 23, 1929, at his grandfather's house in Mahuttuli, Dhaka to Mokhlesur Rahman Choudhury and Amena Khatun.
He studied in Pogose School in Dhaka during his childhood. He passed his matriculation in 1945 and intermediate from Dhaka College in 1947. He started writing poems at the age of 18. His first poem Unishsha Unapanchash was published in 1943.
Shamsur Rahman took admission at the English department of Dhaka University but did not attend any examinations for three years. After that he got admitted to the BA pass course and received his degree in 1953 and then also got his MA degree.
Meanwhile, five of his poems were published in Natun Kabita in1950, an anthology of poems of thirteen young poets.
His first collection of poems Prothom Gaan Dwityo Mrittyur Agey was published in 1960. Since then he had penned many popular poems like Asad-er Shirt, Swadhinata Tumi, Chand Saodagar, Bornomala Amar Dukhini Bornomala, Kokhono Amar Maake, Bondi Shibir Nai, Sudhagshu Jabe Na, Tomake Paoar Jonyo, he Swadhinata and others.
Shamsur Rahman was a columnist and journalist too. He had served as the editor of a national daily, Dainik Bangla and the Weekly Bichitra in the 1980s.
Shamsur Rahman had authored a total of 60 collection of poems along with novels and essays.
Shamsur Rahman depicted liberal humanism, human relations, patriotism and opposed religious fundamentalism in his creations.
For his contribution to Bangla literature, poet Shamsur Rahman received Ekushey Padak (1977), Independence Award (1991), Bangla Academy Literary Award (1969), Mitsubishi Award (1992), Ananda Puraskar (1994), TLM South Asian Literature Award for the Masters (2006) and others.
Shamsur Rahman passed away on August 17, 2006 at the age of 77 in Dhaka.
Want stories like this in your inbox?
Sign up to exclusive daily email
More Stories from Literature