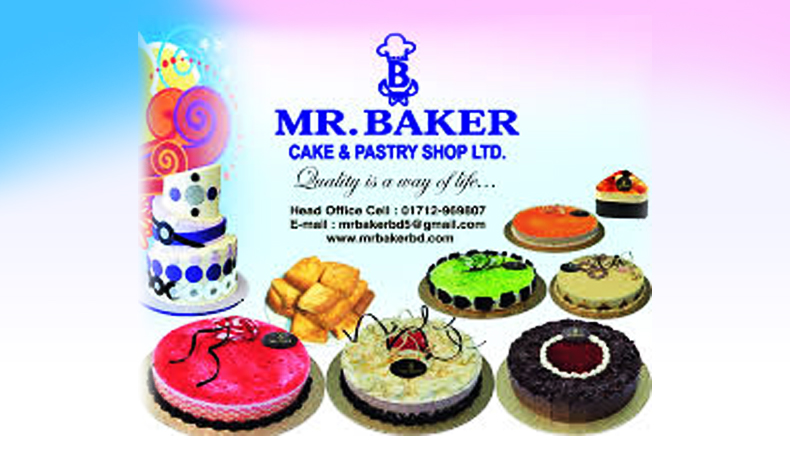 The VAT intelligence of the National Board of Revenue has frozen the bank accounts of Mr Baker Cake and Pastry Shop Ltd for alleged evasion of value added tax and noncompliance with the VAT law.
The NBR's VAT Audit, Intelligence and Investigation Directorate has also sought details of bank accounts and transactions from banks concerned as part of the investigation into the allegations, the directorate said in a press release issued on Thursday.
It said that separate teams of the VAT intelligence conducted drives at Mr Baker's head office, factory and some branches in Gazipur and Dhaka on Tuesday and Wednesday and found evidence of law violation.
The firm has been running 34 sales centres without preserving the proper documents related to VAT alongside selling cake, pastry and sweetmeat without issuing VAT challans to customers.
A VAT intelligence team, headed by its deputy directors Nazmun Nahar Kaisar, Ferdousi Mahbub and Tanveer, Ahmed on Tuesday conducted a drive at the head office and factory of Mr Baker Cake and Pastry Shop Ltd and Mr Baker Sweets located at Tongi and Gazipur.
The team found that the head office and factory of the firm was not preserving purchase and sales documents as per the provisions of the VAT law.
It seems that the firm has been filing VAT returns and paying VAT based on fictitious calculations and has not deposited the VAT collected from consumers to the government exchequer, it said.
The VATAIID will examine the documents and bank statements to determine the amount of VAT evaded by the firm.
It also recommended the Dhaka north VAT commissionerate to monitor the production, supply and sales of Mr Baker to check further VAT evasion by the firm.
Another team of the directorate conducted drives at Mr Baker's Uttara branch and found the allegations raised by Asif Zaman to be true.
A third VAT intelligence team found evidence of VAT evasion after conducting drives at two sales centres run by the firm on Baily Road in Dhaka.
The sales centres were selling cake, pastry and sweetmeat without issuing VAT challans to consumers, it said.
The directorate in separate notices asked Dhaka Bank and Southeast Bank to provide details of the firm's bank accounts, said the release.
Officials of the VATAIID said that they conducted the drives at the instruction of NBR chairman Abu Hena Md Rahmatul Muneem after an allegation made against Mr Baker by retired senior secretary Asif Zaman came to his notice.
On October 18, Asif Zaman alleged in a Facebook post that a branch of Mr Baker at Sector 3 on Road 4 at Uttara did not issue challans despite collecting VAT from customers.
It means that the government is being deprived of revenue, he wrote.
Want stories like this in your inbox?
Sign up to exclusive daily email