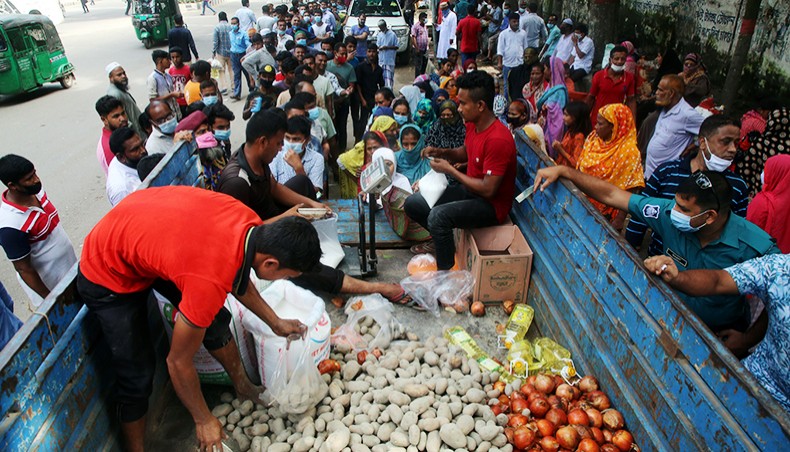 Traders on Wednesday continued to sell potato at higher prices —Tk 45-50 a kilogram — in the city markets, defying the government decision.
The state-owned Trading Corporation of Bangladesh started open market sales of potato at Tk 25 a kilogram on the day, but the initiative had a little impact on the market.
The government on Tuesday revised upward the retail potato prices to Tk 35 a kg from Tk 30 a kg, a day after sales of the item had been suspended at the wholesale markets amid the unexpected price hike of the commodity.
Following a meeting with traders and cold-storage owners, the Department of Agricultural Marketing also raised the wholesale prices of potato to Tk 30 a kg and the cold-storage-gate prices to Tk 27 a kg.
Traders on Wednesday said that the government should ensure that the wholesalers got potato at the cold-storage-gate prices so that the retail prices could be kept at TK 35.
Prices at both cold-storage level and the wholesale level still remained higher than the rates set by the government, they said.
Potato prices have risen abnormally this year with the traders claiming that there is a supply 'shortage' while the government has said that there is no reason for the high prices as there is enough stock of the item.
In Rajshahi, three traders were fined at Durgapur upazila on Wednesday for selling potato at prices higher than the rates set by the government, New Age RU correspondent reported.
Masum Ali, deputy director at the Directorate of National Consumer Rights Protection Rajshahi Office, conducted a drive at Singa Bazar and fined potato traders Abu Hena, Helal and Ashraful Tk 9,000 each.
Following the incident, potato traders at the market closed their shops, saying that they would not sell potato at the prices set by the government.
Later, the situation became normal with the intervention of business leaders. Potato trader Sayeduzzaman said that they had to sell potato at Tk 50 a kg as the wholesale price of the item was Tk 40 a kg.
Want stories like this in your inbox?
Sign up to exclusive daily email
More Stories from Country