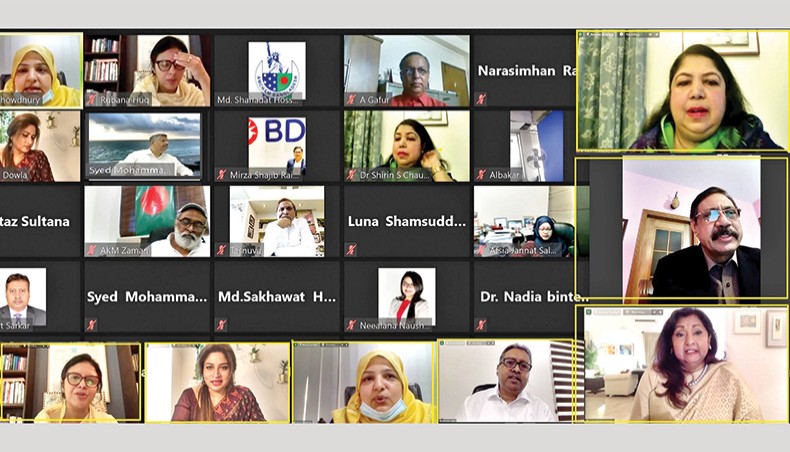 Business leaders on Wednesday recommended that the government should initiate a pilot project to upscale the technological skills of women workers and entrepreneurs in order to equip them with the knowledge of advanced technology and digital transformation.
They also stressed the need for technological education programmes for women so that they did not lag behind in the era of the fourth industrial revolution.
The recommendations came from a webinar titled 'Women Power – the Force Multiplier' organised by the American Chamber of Commerce in Bangladesh.
'The government has many plans and programmes for rescaling and upscaling of skills and now we need a pilot project to scale up the skills of women workers and entrepreneurs,' said Bangladesh Garment Manufacturers and Exporters Association president Rubana Huq.
At least 10 female workers from each readymade garment factory should be included in the programme as they are facing challenges amid massive expansion of artificial intelligence and robotics in the production process, she said.
The use of industrial automation may rise by 25 per cent by 2030 from the current 8 per cent, she said.
There are huge gaps in utilisation of digital devices among males and females and the divide will not minimise without proper education programmes, she added.
PRAN-RFL Group director (finance) Uzma Chowdhury said that women entrepreneurs needed some institutional mentorship and encouragement to facilitate them in moving forward with their ventures.
Women should come forward in business and top-level jobs in greater numbers, she said, citing that the number of women employees was less than 5 per cent at the PRAN-RFL head office although the total number of women workers employed by the group was around 40 per cent.
Oracle Bangladesh managing director Rubaba Dowla also stressed women's adaptation to digital devices to tap into the opportunities of working from home amid the outbreak.
E-commerce has flourished amid the outbreak and more women are now working in the field from home, she said.
World Bank Bangladesh country director Mercy Miyang Tembon recommended that education in technology should commence in childhood.
Echoing with the recommendations, speaker Shirin Sharmin Chaudhury said that women workers and entrepreneurs should be trained properly to avail technology and using them efficiently in their workplaces and businesses.
Without training and education, only the availability of digital technology and devices will not yield any results, she said.
'The Information and Communication Division may consider launching a pilot initiative to train women on how to avail and use digital devices at low cost or free of cost,' she said.
Innovative ideas are also required to address the critical challenges women entrepreneurs are facing amid the digital transformation, she added.
She also recommended collateral free funds for women entrepreneurs saying that lack of adequate capital, access to finance and market, and limited access to technology and networks were the major existing problems for women entrepreneurs.
The COVID-19 outbreak has further exaggerated the crisis as women entrepreneurs are facing decline in sales and failing to repay loans, she added.
AmCham president Syed Ershad Ahmed presided over by the meeting while Dohatec New Media chairperson Luna Shamsuddoha moderated the programme.
Want stories like this in your inbox?
Sign up to exclusive daily email
More Stories from Miscellany