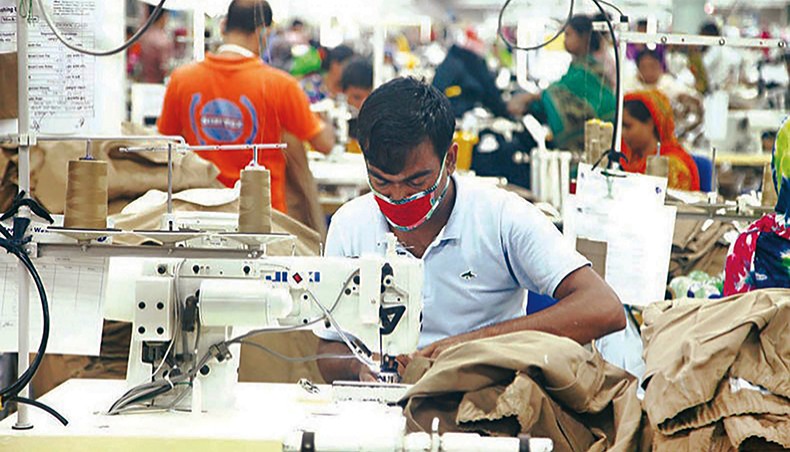 Around 43 per cent of readymade garment factories in Bangladesh operated with less than 50 per cent of their pre-pandemic total workforce as apparel exports to major destinations such as the European Union and the United States declined by nearly 35 per cent in the first half of 2020, according to a report of the International Labour Organisation.
The report titled 'The Supply Chain Ripple Effect: How COVID19 is Affecting Garment Workers and Factories in Asia and the Pacific' said that imports from Asia's garmentproducing countries to major buying countries dropped by as much as 70 per cent in the first half of 2020, causing widespread worker lay-offs and dismissals.
'A total of 2,30,749 workers among Better Work Bangladesh's member factories were still not working as factories re-opened, representing approximately 41 per cent of total workers under the Better Work Bangladesh programme,' according to the report released at a virtual press briefing on Wednesday.
There are a total of 260 RMG factories under the Better Work Bangladesh programme which employs 6,47,701 workers.
As of July, the average proportion of workers returning to work after re-opening was 57 per cent of factories' pre-pandemic total workforce, the report said.
The report identified that cutting wages and delays in payment became common practices in the apparel industry of the Asia Pacific region during the pandemic.
Citing ILO's Better Work Bangladesh data, the report said that in March, one in five workers received their wages later than the legally-mandated seven working days in the next month and the proportion of workers receiving late wages increased to one in three in April 2020.
'Thankfully, many RMG exporters have resumed operations over the past few months. At the same time, these resilient Bangladeshi enterprises and workforces are having to wrestle with the on-going pandemic and ensuring safe conditions for all,' said ILO Bangladesh country director Tuomo Poutiainen.
The report said that the COVID-19 crisis had hit the garment sector in the Asia-Pacific region hard, with plummeting retail sales on key export markets affecting workers and enterprises throughout supply chains.
As of September 2020, almost half of all jobs in garment supply chains were dependent on demand for garments from consumers living in countries with the most stringent lockdown measures in place, where retail sales have plummeted, it said.
In Bangladesh, nearly 20 per cent of apparel factories are operating with between 30-39 per cent of the number of workers they had before the pandemic while only 3.9 per cent of suppliers retained their entire workforce, the study found.
According to the study, starting in February 2020, imports from Viet Nam, Indonesia, India, and Bangladesh fell significantly and by June, total year-to-date imports from India and Bangladesh fell by as much as 38 per cent and 29 per cent respectively, when compared to the same period in 2019.
The research assessed the impact of the COVID-19 crisis on supply chains, factories and workers in ten major garmentproducing countries of the region: Bangladesh, Cambodia, China, India, Indonesia, Myanmar, Pakistan, the Philippines, Sri Lanka and Vietnam.
ILO regional director Chihoko Asada Miyakawa said that the research highlighted the massive impact COVID-19 had on the garment industry at every level.
It is vital that governments, workers, employers and other industry stakeholders work together to navigate these unprecedented conditions and help forge a more humancentred future for the industry, she said.
Want stories like this in your inbox?
Sign up to exclusive daily email
More Stories from Apparel