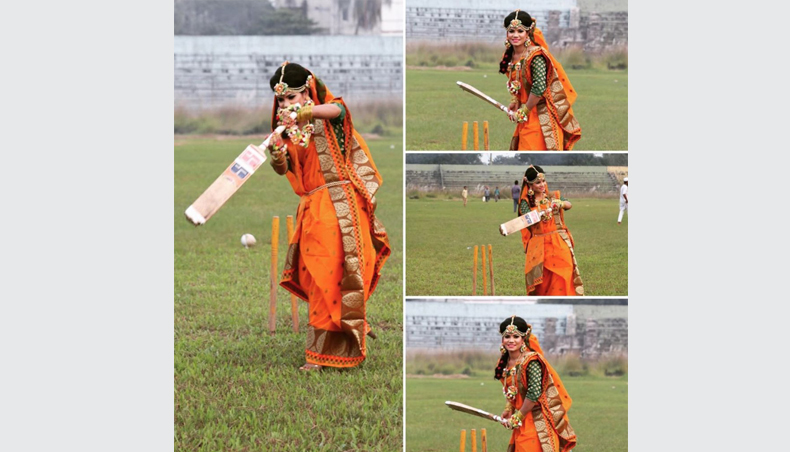 National women's team cricketer Sanjida Islam shrugged off the criticism over some photos of her pre-wedding photo-shoot, which went viral on the internet on Wednesday.
The picture of Sanjida wielding a bat at the Rangpur Cricket Stadium while in bridal getup became an internet sensation, with ICC and various news agencies sharing the photo in their social media handles.
While the photos were mostly met with a positive response, it also faced some criticism, but Sanjida was paying no attention to it.
'When we play well, people cheer for us and when we play bad they want us out of the team. So as a cricketer I am used to these things. If I start answering everyone on social media, I cannot live my life. I am not bothered by it at all,' Sanjida told New Age.
Sanjida, who tied the knot with Rangpur Division cricketer Mim Mosaddek, also revealed that those photos were unplanned and her team-mates Sobhana Mushtary and Hasnat Cynthia captured those pictures when she was playing with some local kids.
'My plan was to do a photo-shoot with bat and ball on the wedding day as we are a cricket couple. But after going to the stadium for an outdoor photo-shoot, I couldn't help myself when I saw some kids playing. I took the bat and played only two balls and my teammate captured the moment nicely.'
Want stories like this in your inbox?
Sign up to exclusive daily email
More Stories from Cricket