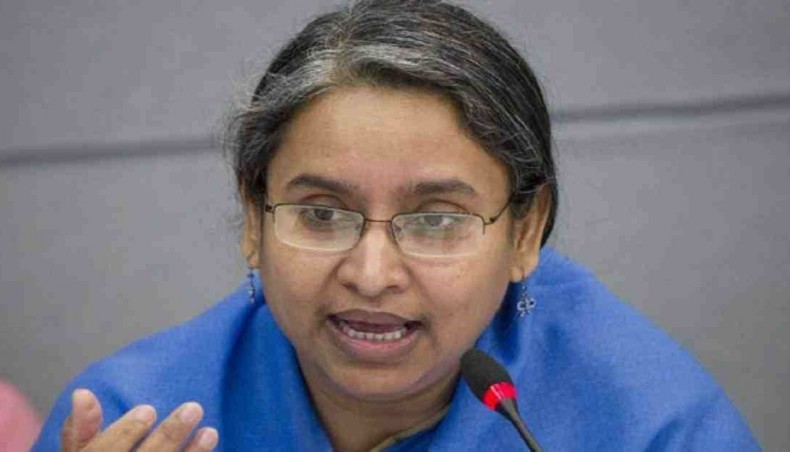 No annual examinations for secondary level students from Class VI to IX will be held this year, said education minister Dipu Moni at an online briefing on Wednesday.
She also said that students would be promoted to next classes, but students' performance would be evaluated through giving assignments to them.
Institutions will be asked to give assignments to students for assessing their learning skill that they acquired through online and TV-based classes.
'Grades will not be awarded through such assignments,' Dipu Moni said adding that teachers will give assignments on the basis of a short syllabus devised by the National Curriculum and Textbook Board.
'Assignments can be submitted in persons or through online,' Dipu Moni said adding that the ministry would make a provision for receiving assignments of students, who migrated due to the COVID-19 outbreak.
Students scheduled to take Junior School Certificate and equivalent examinations this year will, however, get certificates, she added.
Dipu Moni said that teachers would allocate students to science, humanities and business studies groups on the basis students' choice.
She also said that the government had yet to decide the procedure for awarding scholarships to students as no JSC and HSC exams were held.
The primary education ministry decided not to award scholarship for cancellation of primary education completion examinations.
Deputy education minister Mohibul Hassan Choudhury at the press briefing said that the government would soon introduce a National Examination and Assessment Centre for change the examination system in Bangladesh.
Dipu Moni, however, said that the decision on reopening schools would be made after consulting the national advisory committee.
State minister for primary education Zakir Hossain told New Age on Tuesday that no student would get auto promotion but educational institutions would set the procedure for evaluating the skill of students to promote them to next classes.
Educational institutions are closed on March 17 for an indefinite period.
Want stories like this in your inbox?
Sign up to exclusive daily email
More Stories from Country