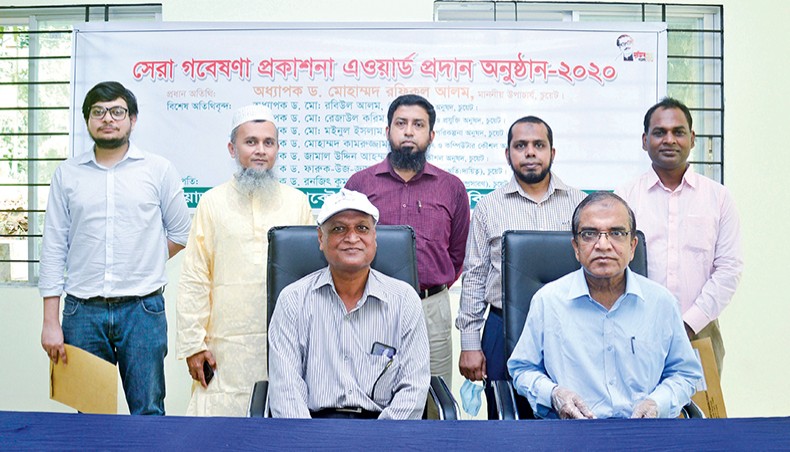 Chattogram University of Engineering and Technology has introduced awards for best research papers under five faculties, said a press release.
The awards for 2019 were distributed by CUET vice-chancellor Mohammad Rafiqul Alam at a ceremony in the TSC auditorium of the university on Tuesday.
Research and extension director Ranajit Kumar Sutradhar presided over the programme, which was moderated by the Department of Urban and Regional Planning assistant professor ATM Shahjahan where CUET Teachers Association president Sajal Chandra Banik deliberated welcome speech.
Civil Engineering faculty dean Md Rabiul Alam, Engineering and Technology faculty dean Md Rezaul Karim, Architecture and Planning faculty dean MD Moinul Islam, Electrical and Computer Engineering faculty dean Muhammad Quamruzzaman, Mechanical Engineering faculty dean Jamal Uddin Ahamed and registrar (additional charge) Faruque-Uz-Zaman Chowdhury were special guests of the programme.
Department of Urban and Regional Planning lecturer KM Asraful Islam for his research, 'Shoreline Change Assessment Using Geospatial Tools: A Study on the Ganges Deltaic Coast of Bangladesh', Civil Engineering professor Reaz Akter Mullick for his research, 'Observed Trends in Temperature and Rainfall in Bangladesh Using Pre-Whitening Approach', Computer Science and Engineering associate professor Abu Hasant Mohammad Ashfak Habib for his research, 'Recursive Independent Component Analysis Decomposition of Ictal EEG to Select the Best Ictal Component for EEG Source Imaging', Mathematics department associate professor Md Golam Hafez for his research, 'Nonlinear Schamel Korteweg-de Vries-Burgers Equation to Report Ion-Acoustic Waves in the Relativistic Plasmas' and Mechanical Engineering department professor Muhammad Mostafa Kamal Bhuiya for his research, 'Comparison of Oil Extraction Between Screw Press and Solvent (n-hexane) Extraction Technique from Beauty Leaf Feedstock' received the best research awards.
Want stories like this in your inbox?
Sign up to exclusive daily email
More Stories from Bangladesh