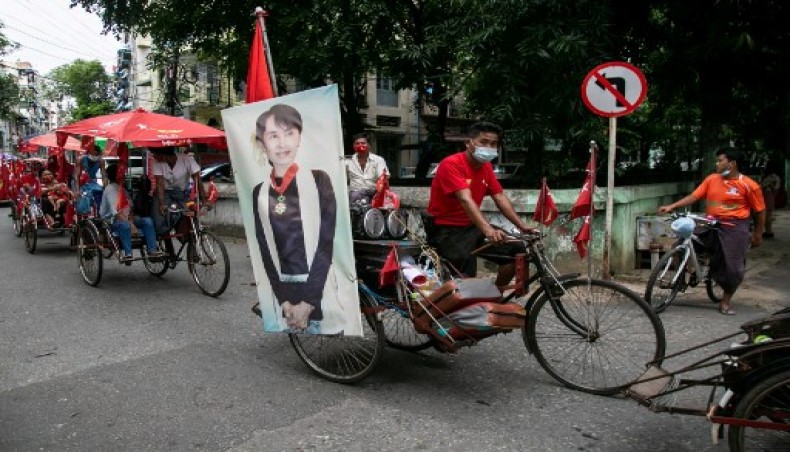 An armed group in Myanmar's troubled Rakhine state confirmed Monday it had taken three election candidates of Aung San Suu Kyi's ruling party prisoner ahead of a November election already marred by mass disenfranchisement.
Militant group the Arakan Army has for nearly two years been locked in battle against the military, fighting for more autonomy for the state's ethnic Rakhine population.
Both sides stand accused of rights abuses, with hundreds killed or injured and some 2,00,000 forced to flee their homes in an area under a strict lockdown that makes independent reporting practically impossible.
With the election three weeks away, gunmen descended Wednesday on a campaign event for Suu Kyi's National League for Democracy in Taunggok township in southern Rakhine, an area relatively unscathed by the violence.
Eyewitness and NLD supporter Thant Zin Phyo said how he and around 10 other men and women had been beaten and called 'traitors', before the gunmen left with candidates Min Aung, Ni Ni May Myint and Chit Chit Chaw.
After five days, the AA Monday posted a photo online of the trio next to NLD paraphernalia, confirming it had been behind the abduction and accusing the NLD of 'collaborating and covering up war crimes committed by the Myanmar Army'.
The group added the prisoners would be released if the government freed all innocent people 'arrested and detained unlawfully for demanding peace'.
NLD spokesman Myo Nyunt said the party was 'deeply worried' about its missing comrades.
'We denounce and reject any act that can harm the free and fair election,' he added.
Suu Kyi's party is widely expected to be returned to power in the national polls — only the second since the nation emerged from outright military rule.
Want stories like this in your inbox?
Sign up to exclusive daily email