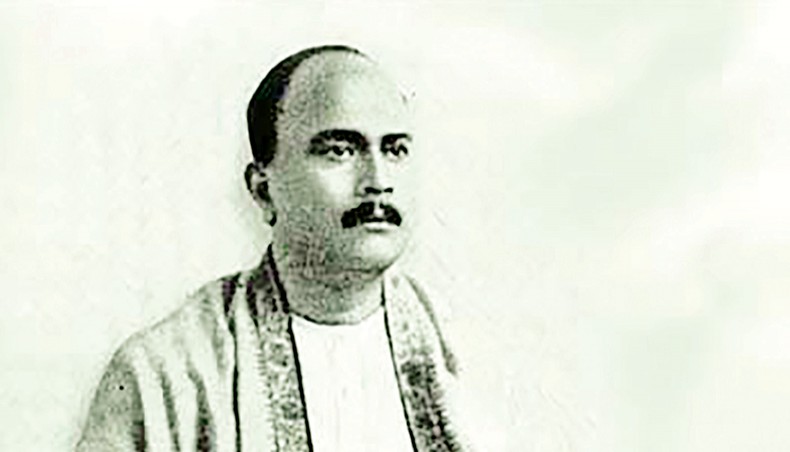 Tuesday is the 149th anniversary of birth of eminent poet, lyricist and singer Atulprasad Sen.
Bangladesh Sangeet Sangathan Samannay Parishad will pay tribute to Atulprasad Sen arranging an online programme, which will feature songs of Atulprasad Sen and a discussion on his life and works.
Singers namely Mamun Zahid Khan, Soma Das, Pujon Kumar Das and Sujit Mustafa will perform at the event.
'Atulprasad Sen is considered as one of the five greatest poets of Bangla literature. Earlier, we organised a programme marking his anniversary of death on August 26. We organise programmes on his birth and death anniversaries at public venues but this year we are arranging online programmes due to the COVID-19 outbreak,' Biswajit Roy, general secretary of Bangladesh Sangeet Sangathan Samannay Parisha, told New Age.
Atulprasad Sen was born in Dhaka on October 20, 1871. Atulprasad lost his father at a young age and grew up in the house of his grandfather Kalinarayan Gupta, who was a follower of the Bhagavada, a good singer and a lyricist of devotional songs. Atulprasad inherited those qualities from his grandfather and later contributed to the literary and music scenes of the region.
He is considered as one of the five greatest poets of Bangla literature. Though Atulprasad was a man of diverse qualities, he is mainly known for as a lyricist and composer.
Atulprasad's songs centre on subjects like patriotism, devotion, love and others. The sufferings he experienced in his life found their way into his sentiments and lyrics and this has made his songs full of pathos.
Atulprasad, in his book titled 'Geetigunja', arranged his songs into five broad categories: devotional, nature, patriotic and others.
He adapted the Hindustani music style to fit in Bangla songs, without distorting their tune. He added a new dimension to Bangla songs as he incorporated fast-paced Hindustani tunes like Kheyal, Thumri and Dadra skillfully and was able to add an element of spontaneity on occasions when the tune transcended the lyrics.
He was greatly influenced by the baul, kirtan and bhatiyali tunes he had heard as a child in Dhaka and Faridpur. His baul and kirtan songs have captured the natural personality of Bengal.
Atulprasad Sen was also a successful lawyer. He practised law in Lucknow from 1902 to 1934. During this time, he used to hold musical soirees almost every evening at his residence where maestros like Ahammad Khalif Khan, Chhotey Munne Khan, Barkat Ali Khan and Abdul Karim used to sing together. Engrossed in such musical sessions, he used to forget to attend his clients. He wrote most of his songs while living in Lucknow. He wrote 206 songs, but only 50 or 60 of them are still sung.
Atulprasad Sen died at the age of 63 in Lucknow on August 26, 1934. He was buried at the Brahmo Temple of Kaoradi, Sripur subdivision of Gazipur district, Dhaka.
Want stories like this in your inbox?
Sign up to exclusive daily email