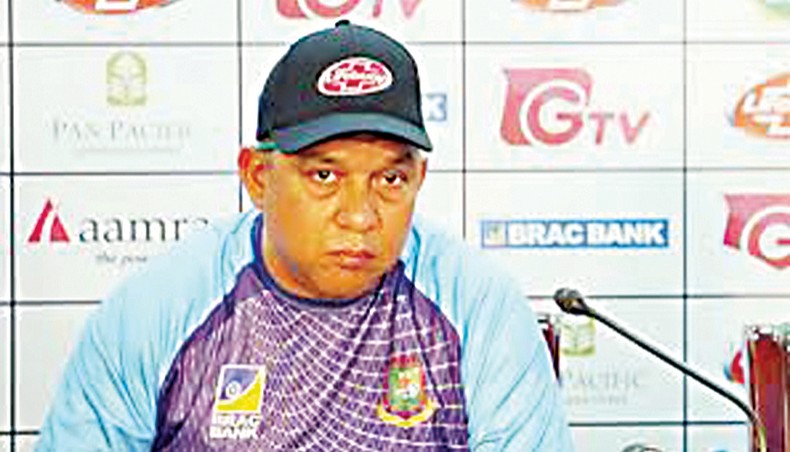 The current edition of Dhaka Premier League is unlikely to resume this year due to Bangladesh Cricket Board's commitment of holding a new Twenty20 tournament after the ongoing BCB President's Cup, BCB game development committee chairman Khaled Mahmud said on Monday.
This year's DPL began on March 15 but was stopped right after the first round matches due to the coronavirus outbreak in Bangladesh.
Domestic cricketers, who heavily depend on the earnings from the league, have repeatedly called for swift resumption of DPL but Mahmud on Monday said the board is planning to push back the country's only List-A competition to next year.
'This year, it is not possible. Earliest we can start is in January because we are already committed to hold the Twenty20 tournament,' Mahmud told the reporters.
'If we start the T20 tournament in November, it will run till the middle of December. After that we need to give the clubs some time for preparation. They have to assemble the players. So considering that, it is not possible to start DPL before the first week of January or even later,' he added.
Bangladesh is also scheduled to host West Indies in January next year, which could push back the league even further, said Mahmud.
'If West Indies comes, the league will continue without national players, it has happened before too. But if the clubs say that they will not play without the international players, then the league could be held after the series.
'But next year's schedule is very tight, there is hardly any room. Maybe there is a small window in March-April,' Mahmud said.
Cricket board's insistence to carry on with new tournaments while keeping domestic tournaments on hold is wiping out an entire calendar year's earnings for professional cricketers who earn most of their livelihood from domestic competitions.
But Mahmud told New Age that the board is holding the new tournaments to prepare themselves to host large scale domestic leagues in the pandemic situation.
'Premier League involves almost 250 cricketers and accompanying support staff. Firstly we are holding a tournament with 45 cricketers then we will be holding a tournament with 75 cricketers. So after that we will have a clear idea on how to hold a tournament which involves a large number of cricketers,' said the BCB director.
Earlier on October 11, BCB President Nazmul Hasan told the media that he had assigned Mahmud to lay out a plan to restart DPL.
Mahmud on Monday said that he is working on the matter to find an amicable solution.
'I was not assigned actually. He asked me how and where we could do it. How we can manage the protocols etc. I am working on it. I talked with BKSP. We were even considering Cox's Bazar as a venue as there are two grounds. But everything is at primary level,' he said.
Mahmud also said that BCB won't intervene about the players' due payment from the club as the players this year signed individual contracts with the clubs, which was one of their demands in last year's player strike.
'BCB will not be negotiating about players' payment. The board will look after the expenses of COVID-19 test and might negotiate about the hotel accommodation cost.'
Want stories like this in your inbox?
Sign up to exclusive daily email
More Stories from Cricket