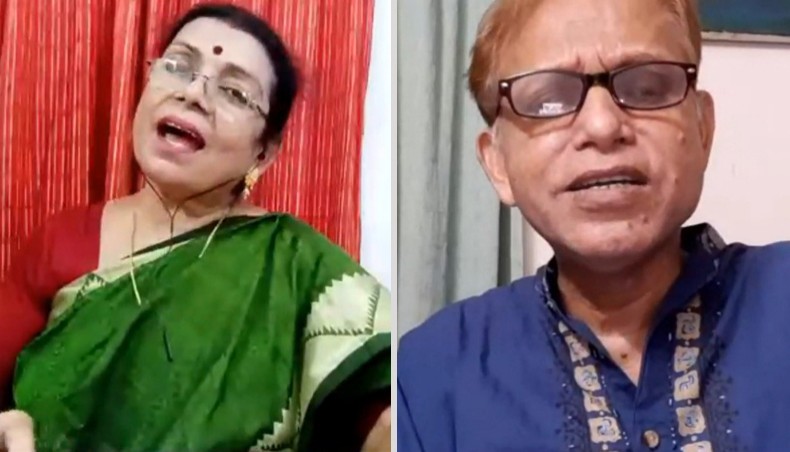 Singers paid tribute to lyricist, composer and mystic Bhaba Pagla rendering his songs in an online programme held on Saturday.
Cultural organisation Radharaman Sangskriti Charcha Kendra organised the programme, titled Shroddhanjali, marking the 118th anniversary of birth of Bhaba Pagla.
Singer Phulrenu Roy and general secretary of Radharaman Sangskriti Charcha Kendra Bishwajit Roy rendered songs at the programme which was streamed live on the Facebook page of Radharaman Sangskriti Charcha Kendra at 7:30pm.
Phulrenu Roy commenced the programme rendering Bela gelo sandhya holo. Besides, she sang Ami jar barite bosot kori, Kalar nam mukhe ano, Dur kore de moner moyla, Kalo hole mondo ki re, Ami mayer dukhi chhele and others.
Bishwajit Roy sang Parame param janiya, Nadi bhara dheu, Bare bare aar asa hobena, Ore manush dekhbi jodi bhagoban, Jibon nadir kule kule and Nitai chander dorbare.
'Bhaba Pagla's songs depict different issues of human life. Especially his devotional songs are very popular among folk music lovers in both Bangladesh and India. Radharaman Sangskriti Charcha Kendra has been organising programmes regularly to pay tribute to the legendary artistes. We celebrated Bhaba Pagla's birth anniversary programme online due to COVID-19 outbreak,' said Bishwajit Roy.
Bhaba Pagla was born as Bhabendramahan Ray Chowdhury on October 17, 1902 in Manikganj, British India. He has composed more than eighty thousand songs depicting numerous themes and religious repertoires. He passed away on February 26, 1984 at the age of 81 in Kalna, Purba Bardhaman, West Bengal, India.
Want stories like this in your inbox?
Sign up to exclusive daily email