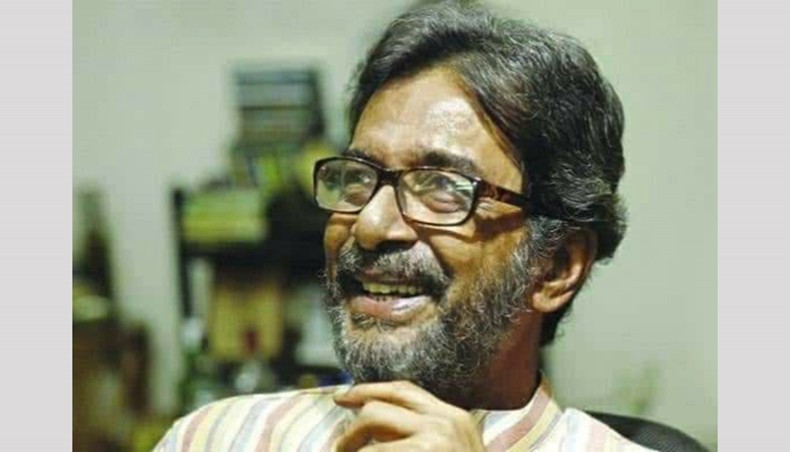 Jayanto Chattopadhyay is known for his stellar performance as an actor and recitation artiste. He has released around 20 recitation albums and lent his voice to many national and international documentaries. Besides acting on stage, film and TV, he has acted in acclaimed films like Matir Moyna, Runway, Antarjatra, Ek Kabir Mrityu, The Last Thakur and Made in Bangladesh, among others. He also represented Bangladesh in many prestigious film festivals including Cannes Film Festival and Toronto International Film Festival.
Recently he spoke with New Age about his upcoming projects, COVID-19's impact on the cultural arena and more.
New Age: You have portrayed numerous characters. If you are asked to name your favourite, which one would it be?
Jayanto Chattopadhyay: I have acted in about 100 films and about 700 telefilms where I have played diverse characters at the request of the directors. No matter what character I play, since I usually get engaged after I like the script, all the characters are of equal importance to me. Some time ago, I had the opportunity to play the role of a man who forgets everything as he suffers from amnesia. It was a telefilm, titled 'Banabatasi', directed by Meher Afroz Shaon. If I get a chance to act in the role of a mentally challenged person, I would eagerly try my best to portray it.
New Age: You are equally comfortable with recitation and acting. Which medium do you actually enjoy the most and why?
Jayanto Chattopadhyay: I began my journey as a performing artiste with music. I started out as an instrumentalist playing tabla and drums. Later I tried my hand at singing and picked up acting afterwards. I have enjoyed everything throughout. But one thing should be kept in mind that no medium can thrive in isolation. One artistic medium is dependent on another. While poetry recitation contains elements of music, it also in turn affects music, or singing to be precise. Acting, in a broader sense, has elements of both singing and recitation. We have this misperception in our country, especially among those who perform on stage, that actors do not need to learn any other medium while working on stage. I don't think this is right. A performer should have some basic ideas about music, literature and other artistic forms. Recitation has benefited my acting. But, to be frank, poetry recitation is like an act of worship to me. I enjoy reciting poems.
New Age: Besides an eminent actor, you are also a well-known reciter, what other creative fields you plan to delve into in future?
Jayanto Chattopadhyay: I have been writing a memoir in three volumes. Besides, I am working on a satirical book depicting characters from Manasamangal Kabya and five epics namely Iliad, Odyssey, Ramayana, Mahabharata and Shahnameh. In my version the characters and their context will deviate from what the great poets had written. For example, in the Mahabharata, Yudhisthira is presented as a truthful person, but I have tried to prove otherwise by way of referring to some of the less explored events described in the Mahabharata that Yudhisthira is not really as truthful as he is often portrayed. There are established perceptions about some mythic characters which I have also tried to overturn. For example, Behula had to reach Indra before she submitted herself seven times at different places. Even, in the eighth time Behula had to charm Indra. I have published five books and four more books are waiting to see the light of the day.
New Age: To what extent do you think the COVID-19 outbreak has impacted acting and recitation arenas?
Jayanto Chattopadhyay: After a hiatus of seven months, I agreed to sign up for a film. Recitation has not developed in our country as a professional medium. Maybe handful artistes have taken recitation as seriously as professionals working in other mediums. So, the field of recitation, in that sense, has not been impacted. But, COVID-19 outbreak has had a significant impact on the acting arena. A lot of small screen actors and actresses have been bearing the brunt of the coronavirus crisis.
New Age: How long do you think it will take to bounce back?
Jayanto Chattopadhyay: It depends on the ongoing COVID-19 outbreak. If the disease becomes milder over time, things may look up. But, if it remains intense, the impact will be worse. It will depend on the severity of the second or the third wave of the outbreak. It also depends on the health system we have in place. After this crisis period, there will be a big upheaval, but it will not be possible to fully compensate for the damage done to the acting arena.
Want stories like this in your inbox?
Sign up to exclusive daily email
More Stories from Miscellany