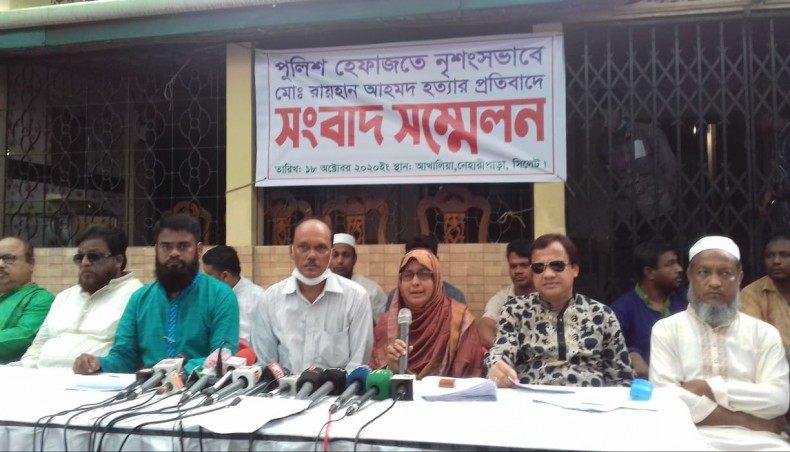 The family members and neighbours of Raihan Ahmed, who was allegedly tortured to death in Bandarbazar outpost of Sylhet Kotwali police on October 11, gave a 72-hour ultimatum on Sunday to press home their 5-point demand, including the arrest of police personnel involved in the killing.
They issued the ultimatum at a news conference held at the home of the victim's parents at Neharipara at Akhalia area of the city.
Other demands are of victim's family members and neighbours are – formation of a judicial committee to probe into the torture on Raihan, issue a directive by the inspector general of police for arresting the Bandarbazar police outpost's suspended in-charge Akbar Hossain Bhuiyan, also prime suspect in the killing incident, make a detail statement in this regard by Sylhet Metropolitan Police commissioner and provide proper compensation to Raihan's family.
Raihan's maternal uncle Shawquat Hossain read out a written statement on behalf of Raihan's mother and announced the 5-point demand on behalf of the local residents in the news conference.
Local elites threatened to take tough actions, including road blockade and strike, if their demands were not met.
Former Awami League organising secretary Misbah Uddin Siraj, Bangladesh Nationalist Party city unit former organising secretary Rezaul Hasan Lodi and Sylhet City Corporation local councillor Makhlesur Rahman Kamran, among others, addressed the programme.

Raihan, 34, a resident of Akharia in Sylhet city, was beaten to death in police custody at Bandar Bazar police outpost on October 11.
Sylhet Metropolitan Police suspended its Kotwali police station's Bandarbazar outpost in-charge Akbar Hossain Bhuiyan, constable Harunur Rashid, Tauhid Mia and Titu Chandra Das for their suspected involvement in torturing Raihan to death.
Want stories like this in your inbox?
Sign up to exclusive daily email
More Stories from Country