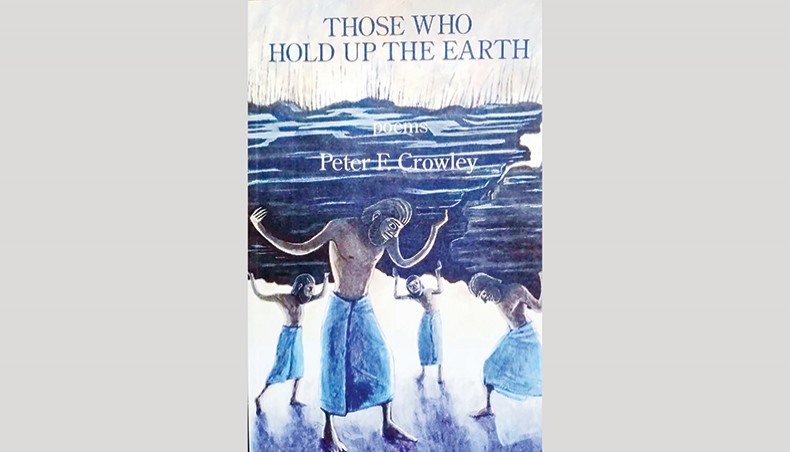 Irish-American poet Peter F Crowley has portrayed the working people of Bangladesh, life in Dhaka, rivers of Bangladesh including Buriganga and Padma along with revolutions and struggles for freedom across the world in his recently published anthology of poems titled Those Who Hold Up the Earth.
The book has been published from Keslay Books in the USA. The poet has paid tribute to those who are forgotten and taken for granted, who uphold the earth.
Peter F Crowley visited Bangladesh in 2018. He has shared the experiences of his travel to Bangladesh in four poems in the book, which contains 46 poems in total.
'I traveled to Bangladesh in the late 2018 to visit my in-laws and was awed by the sheer newness of the experience. For instance, we travelled through Dhaka and also visited rural areas. I travelled from Dhaka to Mawa until I reached river Padma and then turned back. The beautiful scenery and roads of rural Bangladesh left a lasting impression on me. I've seen nothing like it before,' said Peter F Crowley.
The poet has portrayed old Dhaka, Buriganga, Padma, fish markets of Mawa, innocence and open-heartedness of people living in villages of Bangladesh and others in the poem From Dhaka to Mawa while he has mentioned guava fruit in What we know, we already know, Dhaka's market town suburbs in A Lick of Spring, and rickshaw pullers in Those Who Hold Up the Earth.
'The title poem of Those Who Hold Up the Earth is influenced by Langston Hughes' A Dream Deferred. The manner in which Hughes posed unanswered questions of what happens to a dream deferred, inspired his second stanza in which I raised the question of who, in fact, are those who hold up the earth,' added Peter F Crowley.
Want stories like this in your inbox?
Sign up to exclusive daily email
More Stories from Literature