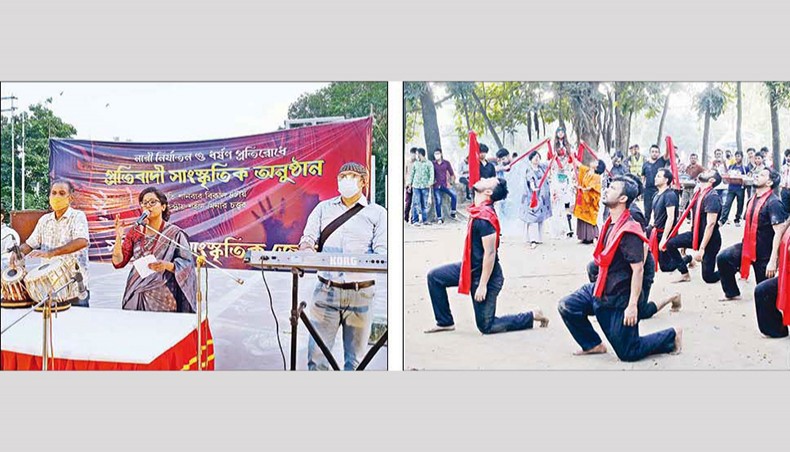 Artistes protested at violence against women and social anomalies performing songs, recitation and street plays in two different programmes held on Dhaka University campus on Saturday.
Sammilita Sangskritik Jote organised a programme on Central Shaheed Minar premises and theatre troupe Prachyanat staged a street play on Swoparjito Swadhinota Chwattar premises.
Recitation artistes Nurjahan Akter, Shirin Islam, Rezina Wali Lina, singers Abida Rahman Setu, Shimul Saha, Arif Rahman, Lina Ferdousi, Amit Himel and others performed at the programme organised by SSJ.
Nurjahan Akter commenced the programme titled Nari Nirjatan O Dhorshoner Biruddhe Protibadi Sangskritik Anushthan reciting poems Naribadi Nari and Ishwer Ke Eve. Besides, Shirin Islam recited Jamunaboti and Batase Lasher Gondho, Rezina Wali Lina recited Tumi Ki Tader Khoma Koriyachho and Ami Sei Meye.
Abida Rahman Setu sang Amra toh thambo na thambo na and Juddho noy tolo awaj, Shimul Saha sang Chitkar koro meye and Uchit katha koiya jamu, Arif Rahman sang Rokto diye naam likhechi and Bhebo na go maa, Lina Ferdousi sang Amar protibader bhasha and Lorai kore ante hobe adhikar, Amit Himel sang Jodi tor daak shune and others.
Theatre troupe Nat Nandan staged a street play titled 'Deyaler Kanna', which has been written and directed by Asma Akter Liza. The play is an interrogation of the current situation where rape and violence against women have become rampant. The play also focuses on the role of the law enforcement agencies and the social condition created in the last few years which only perpetuated the injustices against women multiplying the sufferings of the rape victims and their families.
Jayita Mahalanobish, Surovi Roy and Asma Akter Liza acted in the play.
Sammilita Sangskritik Jote president Ghulam Quddus said, 'Our country has been founded on the basis of nationalism, socialism, democracy and secularism but different social issues including violence against women are interrupting our country's progress. We arranged this programme to ensure women's rights in our society. Cultural activities can motivate people to raise their voices at violence against women and social anomalies. I also want to thank the government for passing a new law to ensure women's rights. I urge the authorities concerned to implement the law properly,' said Ghulam Quddus.
SSJ will organise cultural programmes protesting at rape and violence against women on Saturday from now on.
Besides, different cultural organisation arranged special programmes across the country under the banner of SSJ on Saturday.
Theatre troupe Prachyanat staged a play titled 'Sagnkatkal' at Swoparjito Swadhinota Chwattar premises. It has been written and directed by Andolon Mithun. The play depicted social issues and violence against women including religious prejudice, corruption, rape and others.
Students of 38th batch of Prachyanat School of Acting and Design namely Suny, Jonaki, Shawon, Salman, Milu, Najifa, Albhi, Tamzid, Omor, Supti, Shams, Purni, Tuhin and others acted in the play.
'The play 'Sangkatkal' brings to light different social issues which are hampering country's development. The actors deserve kudos for their performances,' Mousum Ahmed, an audience, told New Age.
Want stories like this in your inbox?
Sign up to exclusive daily email
More Stories from Miscellany